Food For All: Allotment Gardening Sessions
Events Date: Two groups run every Wednesday | Location: Manchester Mind Allotment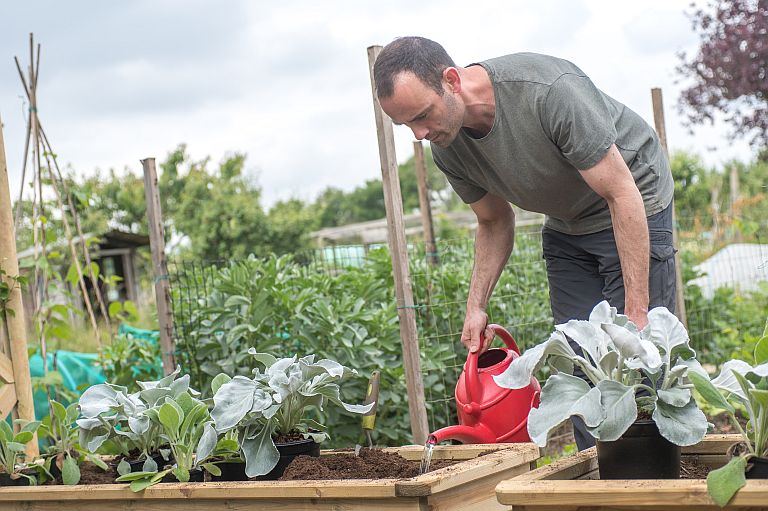 "Outdoors socialising has helped shift some of the darkness I feel daily" 
When you are struggling with your mental health it can feel overwhelming and isolating. Many of us have felt lonely and isolated because of the pandemic and it is understandable that it might be difficult to take that first step to get out and meet with people again.
We know that spending time in nature and being with other people is proven to be good for mental health, so we would like to invite you to our socially prescribed gardening groups. You can take part in a therapeutic gardening course for 6 weeks. Courses run weekly and re-start every 8 weeks.
You will have access to our beautiful allotment, including our relaxing sensory garden, learn about growing food and meet new people in a safe and supportive setting. These groups can improve your wellbeing alongside your mental and physical health, helping with insomnia, loneliness, low mood and stress related illnesses.
Two groups run every week on a Wednesday and you will receive detailed information before your first visit so you know what to expect. But if at any point you have any questions please do contact us and we will be happy to help.
Groups are led by experienced gardeners, mental health professionals and volunteers.
If you enjoy these sessions we can support you to explore some of the other activities we have available.  Some of the things we have on offer are:
We are funded to deliver these sessions to those over 18 living in Manchester*:
With emotional and mental health needs for example loneliness, worry and low mood
With a diagnosed mental health condition such as depression, anxiety and severe and enduring mental health conditions.
Anyone who feels they are isolated and would like to get out and meet new people
Please book your place by contacting a member of our team:
Telephone: Call 0161 769 5732
Please note: Lines are open between 10am and 2pm Monday to Thursday 
Website: Please use our self referral/ enquiry form. Third parties please use this referral form
We look forward to meeting and welcoming you.
These session are run in partnership with both Be Well and Sow The City. 
*Important note
Due to funding restrictions we can only offer places to people living in the city of Manchester. This is postcodes beginning 'M' followed by 1, 2, 3 (Manchester not Salford), 4, 8, 9, 11, 12, 13, 14, 15, 16 (Manchester not Trafford), 18, 19, 20, 21, 22, 23, 40 or 90.