"Do One Thing" for World Mental Health Day
30/09/2021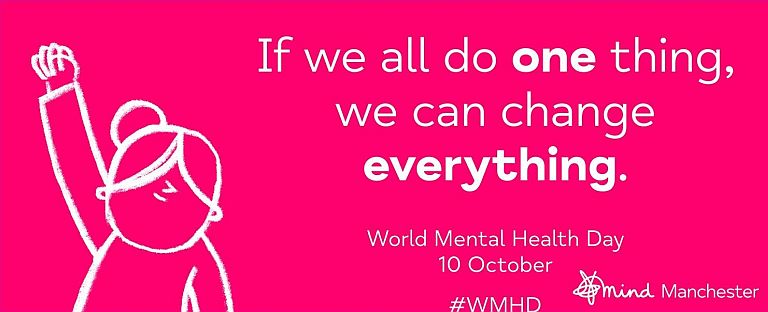 "If we all do one thing, we can change everything"
Sunday 10 October is World Mental Health Day (WMHD). After the events of the last few years our mental health remains more important than ever.
Taking inspiration from national Mind's WMHD campaign we are marking the event by encouraging you to "Do One Thing" to support your own mental health and for the mental health of those around us.
Whether you are looking to take the first steps towards getting help, find the best way to reach out to a loved one who is struggling, or raise awareness to de-stigmatise mental health issues – now is the time.
It can be hard to know where to start but our mental health can be improved by small changes in different areas of our lives. It does not have to be complicated or time-consuming.
Please read on for some of our suggestions and if you are happy to share what you are doing whether it is one of these suggestions or one of your own, please share on socials, tagging Manchester Mind (full details below) so we can all encourage one another to #DoOneThing.
Here are some suggestions for you to consider:
You may have heard the phrase "you can't pour from an empty cup"? Well it is true. Modern life rarely gives many of us the opportunity to pause and practise self-care but we have a whole Wellbeing Hub to help you to do just that. It is packed full of self-care tips, including a downloadable checklist so you can add self-care to your daily routine.
Reach out to someone you are worried about –  if you are not sure how to start the conversation we have some guidance that may help.
Food and mood – nutrition really is important to your mental wellbeing so it is important to try to eat a balanced diet. You can find out more about our top nutrition tips here.
Routine – as we try to establish a new norm, establishing a routine might still be proving challenging. Routine really does help improve mental wellness. If you are still working from home you might find our tips useful.
Champion workplace wellbeing – we offer a range of courses to help you build your knowledge, confidence and awareness about mental health to support yourself and your colleagues. Find out more here.
Find your balance with the Five Ways to Wellbeing – Connect, Be Active, Try Something New, Give and Take Notice, having a good balance in these five areas of your life has been proven to increase people's health and happiness. Gain a good insight into each area.
Access to mental health support is too often determined by where we live or who we are. It should not be like this. But we can change things. This World Mental Health Day, do one thing and join mental health charity Mind as they fight to right this injustice. Use Mind's resources to learn about mental health inequality, add your voice to our campaign, spread the word, or donate to the cause.
Feeling inspired to fundraise for Manchester Mind but not sure what activity to undertake? Our 2021 Fundraising Pack is full of ideas.
Share your story – have you used our services, volunteered or fundraised for Manchester Mind? We would love to share your story so others can see they are not alone in their mental health challenges.
If you live in Manchester and are struggling or feeling like you need some help please contact us on 0161 769 5732. You can find out more about our current services here.
Need to talk to someone confidentially? Call national Mind on 0300 123 3393 or access other immediate help
If you have your own suggestions, or decide to take up one of ours, and are happy to share what you are doing please let us know via our social media channels: