Day of Action: Manchester VCSE leaders Statement on the Funding of the Sector
15/12/2020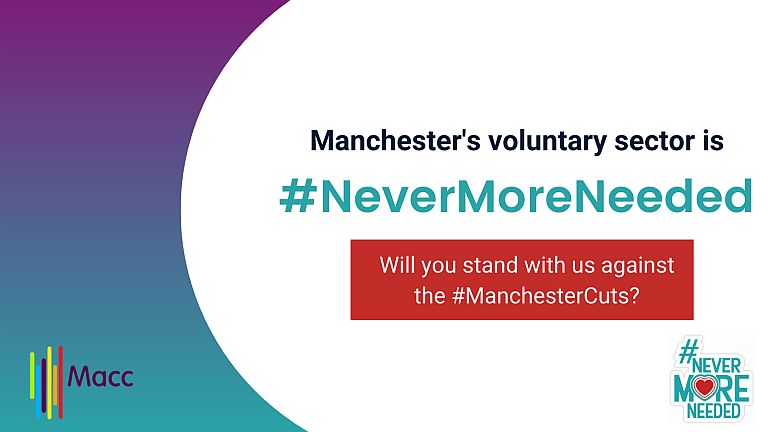 We have signed Macc's written statement about the importance of the VCSE sector to show our support for their cuts campaign. We know that the voluntary sector does incredible work, it is an essential part of Manchester's economy and the voluntary sector should not be cut.
Macc will pass this signed statement on to councillors and to decision-makers within Manchester City Council, Manchester Health and Care Commissioning and Manchester Local Care Organisation.
You can read the full statement below and find out more about what would happen to Manchester Mind's services if we suffered cuts by reading about what work we carry out on a typical day here.
One of Manchester's greatest assets is its diverse and vibrant eco-system of over 3000 voluntary and community organisations and social enterprises. They work in arts, sport, mental health, environment, welfare benefits, homelessness, refugees, youth services, domestic abuse, learning and almost every other area that supports the health and wellbeing of the people of Manchester. They provide services, give advice, advocate for the people they help and assist them in advocating for themselves, and work with volunteers. They work with every disadvantaged community in Manchester.
During the Covid-19 crisis we have played a critical role at both a city-wide and neighbourhood level in food provision, mental health support, provision for rough sleepers, supporting BAME communities, supporting people most at risk of Covid-19, and supporting families. The No Going Back Report published by Macc gives an insight into that work but couldn't hope to capture its richness.
The Covid-19 crisis has impacted on the VCSE sector just has it has on every other sector. Recent national statistics show that the financial position of 40% of VCSE organisations deteriorated in the previous month and about 10% of organisations feared that they would no longer be operating in a year's time (Covid-19 Voluntary Sector Impact Barometer – Oct 2020).
Much of the funding during the crisis has been short-term funding and organisations do not know yet how or whether they will be able to fund their work in the future. Organisations have faced increased expenses during the crisis in making adaptations and in continuing to run both face to face and digital services. Many are already facing surges in requests for their help and this is only likely to increase as the epidemic continues. Organisations that rely on rent or fees for services have been particularly badly hurt and may close, leading to the loss of critical services and community facilities in some areas of Manchester.
Due to the financial pressures caused by the crisis, a further major threat to the health of the VCSE sector is the possibility of cuts in both grants and contracts from Manchester City Council and Manchester CCG. This funding is especially critical for the sustainability of many organisations as it is long-term and substantial.  This funding helps to support many VCSE organisations across Manchester, who then work with and support many other VCSE organisations.
If this funding is significantly reduced it will have a serious impact on the VCSE sector and their beneficiaries in a number of ways.
Direct impact: VCSE organisations will be able to work with fewer people
Less money coming into the city: stable VCSE organisations bring in large amounts of extra money
Fewer Manchester citizens volunteering
Increased pressure on statutory services
Less money for Manchester citizens due to less advice and support
Disinvesting in the VCSE sector, in the longer run is a false economy. Manchester has some of the worst poverty and health outcomes in the country.  If that is going to change then Manchester needs more preventive services of the kind that the VCSE sector delivers. It needs consistent levels of VCSE services in every neighbourhood. It needs more BAME-led organisations that can work with the increasing size and diversity of BAME communities in Manchester.
We wish to work with you in achieving these outcomes.
Find out more here