Manchester Mind's Allotment Blog: Creating a Sensory Space
22/12/2021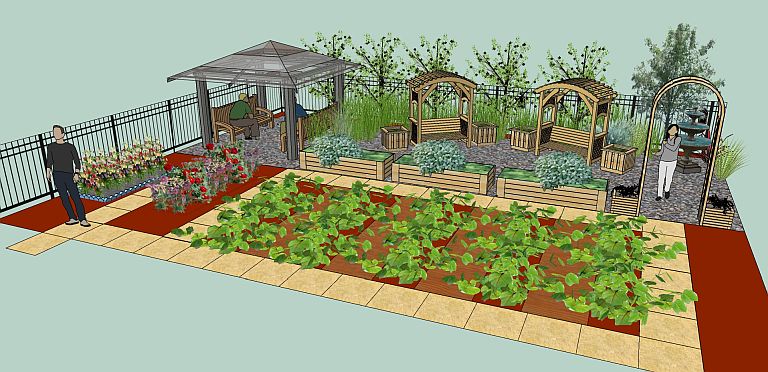 A Design Project Blog – In collaboration with J. Parkers
At our Allotment Project we grow vegetables to help sustain our emergency food response and provide volunteering opportunities with enhanced support, to people with lived experience of poor mental health. Gardening is a therapeutic and meaningful form of physical activity and spending time outside and reducing stress is especially important during this time of uncertainty.
This blog invites you to accompany us on our journey with local business J. Parkers to turn a disused area of our plot into a special space to sooth the senses for self and shared care.
Background
The pandemic has not been easy on anyone, but particularly not for people with poor mental health. Thankfully, being outdoors the allotment project has remained a space where we have been able to continue to offer support.
In November, as the cold nights set in and the number of support sessions we could offer at the plot decreased; we were starting to feel weary. After working through lockdown uncertainty and having to adapt and build on our resilience, we definitely needed motivation. With little funding and an uncertain future we were brainstorming ideas to develop our allotment to ensure we could offer the best support to people in 2021.
We believe the universe was listening and as if to reward all the hard work and determination our staff and volunteers demonstrated throughout the year, we were contacted by the kind folk at J. Parkers.
They had noticed that the pandemic was creating a new generation of gardening enthusiasts who found growing offered an ointment to the pain of lockdown. People were busy sowing seeds and online activity showed a new found love for plants emerging from the sudden changes to busy lives and more time spent at home. They could see that being able to connect with something green offered wellbeing support to people at a very challenging time. Of course they could not ignore the deeply negative impact the pandemic was ravishing across their city. Increasing food poverty, worsening mental health and stories of people suffering led them to consider how they could – with their gardening expertise – offer support to a local charity.
We were blown away with kindness when they contacted us about our projects to see if they could help and following a few lovely Zoom meetings, consultation with our volunteers and the people we support – the Sensory Garden Project was born.
Who are J. Parkers?
J. Parkers are a Manchester based, family owned and managed business established in 1933. Continuing the work of three generations of bulb growers and exporters they are one of the leading plant and bulb companies in the UK. They also run three fabulous garden centres in Manchester and Cheshire.
They share a genuine enthusiasm for gardening and are fully committed to supplying quality gardening goods, excellent customer service and building community.  Not only do they supply excellent products at down to earth prices, but they also share easily accessible gardening advice and tips about how to get the best results from your plants.
Find out more information about their garden centres you can visit their website here.
Find out why we decided on a sensory garden in part one of our blog.