"You're on mute!" – Manchester Mind through the Zoom Lens
17/03/2022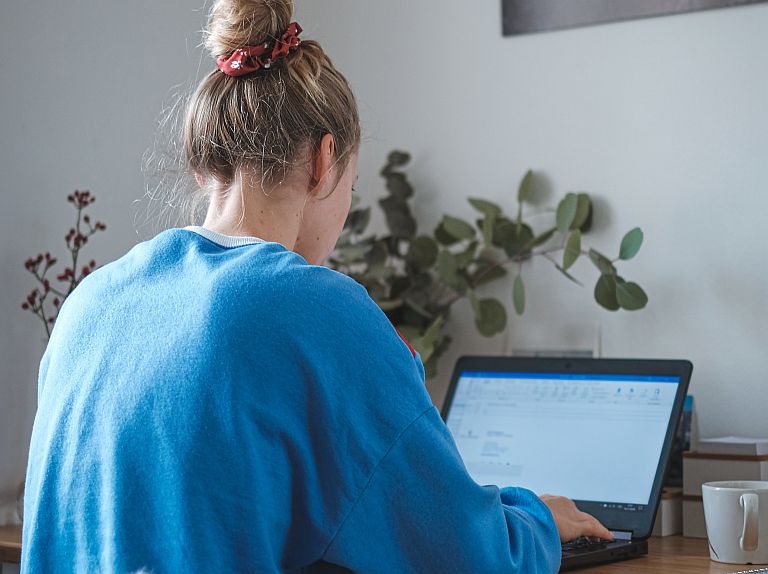 Before Covid-19 turned our world upside-down, most of us were unaware of Zoom and had only basic experience of video calls and online conferences. But in February 2020, our face-to-face services had to stop. By March we were all working from home and looking at adapting services so they could be delivered digitally or by telephone.
Trying to deliver a service through the screen is completely different to having someone in your physical space, and for many of us, there were pre-conceptions that this could not possibly work and was a poor substitute for face-to-face work. We were worried that we would be missing people who were digitally excluded – whether for financial reasons or because of the fear of technology, and we were right to be.
However, with no other choices, we had to go ahead and there were some positives which we did not predict. In the first few months of the first lockdown I led some open access drop-in sessions. These were short experiential sessions including calming techniques or mindful meditations, staff sessions, and drop-ins for mindfulness graduates. I was pleased to find a sense of community building between regular attendees, and that people were often very open even to a bunch of strangers in rooms across the city.
As confidence in the medium grew, there were more opportunities to deliver workshops and courses, and the first Building a Healthy Future course took place in June 2020. I was surprised that it was still possible to create a warm and inclusive atmosphere. Offering zoom training to those who had not used it before was crucial in ensuring we could help people join.
There are definitely some advantages to this aspect of delivery. Some people feel more confident and safe in their home surroundings, and are maybe even able to be more open with groups than they would have been otherwise. Others would have been prohibited from attending real life sessions, either due to mobility issues or location. I had at least a few participants with agoraphobia or severe social anxiety who would never have considered one of my courses before. It's been heartening to see friendships grow; one of my groups is still meeting regularly since their course finished, and would never have been able to do this without Zoom.
The disadvantages are obvious. Technology can fail, batteries can drain, people can be distracted by pets, home deliveries, children or just whatever noises happen to be in their home or work environment. Other people in the house might mean they are more inhibited about speaking honestly. Some people are viewing sessions on laptops, others on tablets, and many on phones. Laptops offer the best participant experience, using chats is easier, you can see more participants on gallery view, and any slides used are bigger and easier to read. But most people do not have laptops, so it's been important to try and ensure that those on phones do not end up getting less from the sessions.
When participants have their cameras off, communities are hard to build, interaction harder to encourage, and commercial workshops with a screen full of names but no faces is more tiring for the facilitator and less rewarding. It is also harder to draw quiet people out than if you were in the same room as them. If people are distressed, it's harder to comfort or calm them. However, I have seen a group rally round a distressed person (who has turned their camera off) and offer support and encouragement.
The breakout facility has both advantages and disadvantages. It's harder to eavesdrop on conversations, and it's not possible to know whether or not people are uncomfortable, not getting along, or sharing inappropriate or upsetting things. Some of my participants have hated the breakouts, while others have loved them, and the time in smaller groups having private conversations has fostered supportive communities and friendships.
What has been clear is that the future is neither wholly offline, nor online, but a combination of the two. I certainly plan to continue to offer online Building a Healthy Future courses to increase my reach. Potential participants living with severe fatigue, anxiety or mobility issues can still access the service, while for those who want to get out and who can, there will be real life courses.
Covid-19 has forced us to into new ways of working, and embracing the potential and opportunities that it offers. Hopefully going forward, this means our reach will be wider, and that no one who wants to access our services will be excluded.
"…thank you so much for offering these little spaces of calm and comfort to all of us, they absolutely light up my week at the moment and I feel deeply grateful for them." Drop-in participant
Ruth Rosselson, Resilience Co-ordinator