Time to Talk Day Thursday 3 February
28/01/2022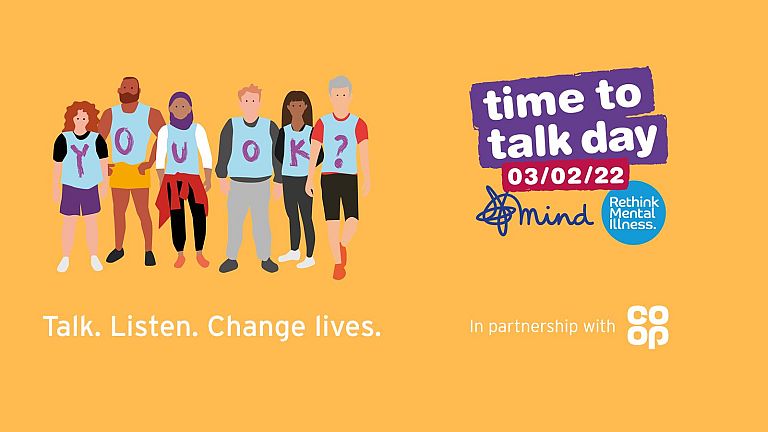 Let's talk about mental health on 3 February 2022…
Run by Mind and Rethink Mental Illness, in partnership with the Co-op, Time to Talk Day returns for 2022. 
The day is about creating supportive communities by having conversations with family, friends, or colleagues about mental health. We all have mental health. By talking about it, we can support ourselves and others.
Read on to find out more, see how you can get involved, our tips for the day and how our services can help you if you are struggling.
Why Time to Talk Day is important
One in 4 of us will experience a mental health problem in any given year

We want everyone to feel comfortable talking about mental health – whenever they like

Talking about mental health reduces stigma helping to create supportive communities where we can talk openly about mental health and feel empowered to seek help when we need it

Opening up the conversation about mental health problems is important – by talking about it, we can support ourselves and others
How to take part
Time to Talk Day is about creating a society where everyone feels comfortable talking about mental health – whenever they like. If people feel able to do that, that is great. Unfortunately, many people still do not feel comfortable talking openly – fearing judgment from others. By asking those with a mental health problem and those without, to have these conversations we hope we can empower people, who will also encourage others, so these conversations will continue.
Plan a community event, check-in with a friend or pop some posters on your community notice boards. However you do it, start planning how to get your community talking about mental health on Time to Talk Day. Find out more about event ideas, social media content, download resources and more on the Time to Talk website. 
However you start your conversation, let us know on social media with #TimeToTalk and please tag us if you can.
Tips for talking
There is no right way to talk about mental health, but our tips can help make sure you are approaching the conversation helpfully.
Signs of poor mental health
It is not always easy to spot poor mental health, so we have gathered together some information to help you know what the signs could be.
If you are struggling yourself, help is available
If you live in Manchester our Peer Support Groups are available for adults and young people (age 18-24). Peer Support provides a confidential place where people can have a chat without judgement. By sharing and understanding, we create better wellbeing, increased self-esteem and confidence. You can find out more about them here.
Or you may want to access 24/7 support services like SHOUT and the Samaritans, full details here.