Frequently Asked Questions: Time to Talk Day
28/01/2022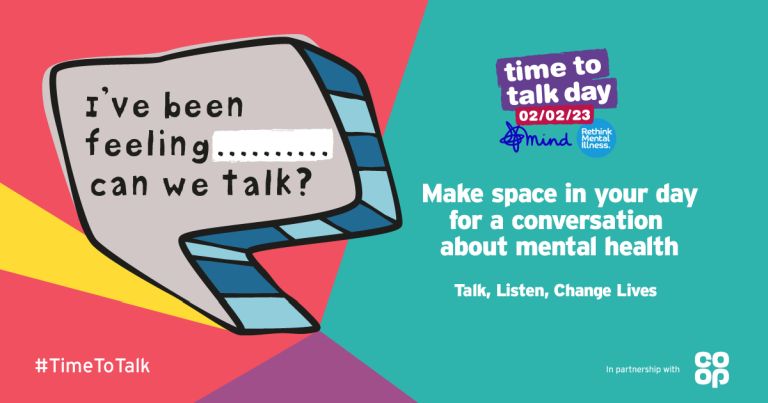 Time to Talk Day is on Thursday 2 February 2023. It will be run by national Mind and Rethink Mental Illness, in partnership with the Co-op.
The day is about creating supportive communities by having conversations with family, friends, or colleagues about mental health. We all have mental health. By talking about it, we can support ourselves and others.
You may be wondering what the importance of awareness days like Time to Talk Day is, so we have gathered some frequently asked questions here to explain more fully:
Why do we need a specific day to talk about mental health? Should we not be encouraging people to talk about mental health whenever they want to?
We want to create a society where everyone feels comfortable talking about mental health – whenever they like. If people feel able to do that, that's great. Unfortunately, many people still don't feel comfortable talking openly – fearing judgment from others. By asking those with a mental health problem and those without, we hope people will find it a positive experience that they will continue.
Do awareness days like these risk convincing people who are probably just a bit low that they have mental health problems? 
Public awareness and comprehension of mental health have improved dramatically in recent years. We now have a much better understanding that we all have mental health, just as we all have physical health, and that we need to look after it; this is a big positive. But too many people still struggle in silence, feeling unable to speak out for fear of what others might think. Public awareness days like Time to Talk Day play an essential role in ending this stigma – a significant barrier to people accessing help and support.
What if people find that friends or family are not supportive when they open up?
The vast majority of people we talk to find that things improve when they open up about how they are feeling. However, for some of us, that may not be the case. If you live in Manchester our services are available for adults and young people age 15+. You can find out more about them here.
You can also access 24/7 support services like SHOUT and the Samaritans, full details here.
Can a conversation about mental health really make a big difference?
We know that talking about mental health can feel difficult or even scary. Many people with lived experiences of mental health problems have shared that small conversations do make a big difference in opening up and seeking necessary support. However, many of us with mental health problems still feel uncomfortable reaching out. 
We can encourage more openness around mental health by:
showing that a conversation surrounding the matter does not have to be daunting; and 

supporting friends, family or colleagues if they are experiencing a mental health problem
Manchester Mind has been supported the mental health of local people for over 30 years. You can find out about all of our services here.