Six Places In A Different Light – Announcement
10/10/2023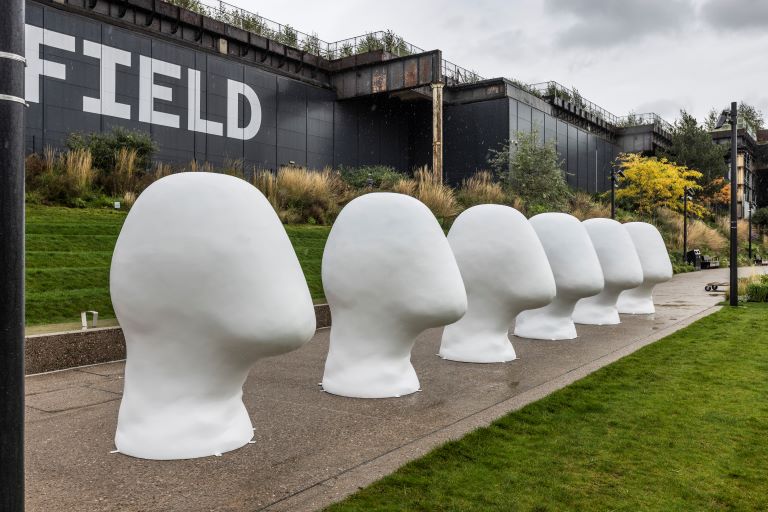 Manchester Mind are delighted to be once again partnering with creative studio and multidisciplinary arts collective We Are Willow, in collaboration with global art producer Wild In Art, to deliver 'Six Places In A Different Light'. A series of six striking installations across Greater Manchester to promote mental health awareness and wellbeing.
The project is funded and supported by the Greater Manchester Integrated Care Partnership, Salford City Council, The University of Salford, Landsec U+I and Arts Council England.
The series of head sculptures will be installed in Mayfield Park, Greengate Square, the University of Salford's Peel Park Campus, Imperial War Museum North and MediaCity UK from 30 October – 11 December 2023. The aim is to engage with new audiences and connect with new communities through creativity, to encourage open conversation, embracing mental health in a different light.
'A Different Light' is a project that has been creatively evolving since its inception in 2016. The work originally featured four films, an album of music and spoken word and an edition of 300 bespoke mini head sculptures.
In this latest project, six large scale head sculptures will each be uniquely decorated by illustrator and community artist Kelly Ma, illustrator Tom J Newell and painter Ekun Richard. They will work with mental health participants to generate inspiration for their work, all of which will respond to We Are Willow's specially written 12 track album of music and spoken word.
The project works with three different charities these are:
Manchester Mind, an independent charity, affiliated to national Mind. We have been delivering local mental health services for over 30 years. Last year over 7500 adults and young people received support, information and/or training from Manchester Mind. Our aim is to make it easier for people to ask for help.
START, a charity that has been delivering mental health and wellbeing services in Salford for over 30 years; the organisation uses creativity, connection and recovery interventions to help improve people's lives.
The Jamie Horrocks Trust, which was established to help prevent suicide through early community engagement whilst working with and supporting those who have lived experience of losing someone to suicide.
Along with additional participants from BlueSci in Trafford & Stockport and District Mind.
Chris Butler, Co Founder & Creative Lead for We Are Willow, said: "The opportunity to collaborate with Wild in Art and three inspirational charities, to promote the crucial work they deliver across Greater Manchester through creativity is extremely exciting.
The previous projects we have produced have raised awareness,  but we can always do more. We can make it count for more, bring more people with us and, with collaboration as our guiding light, make a bigger difference."
The giant head sculptures arrived at Mayfield Park this week where they will remain in a dedicated painting space until they are installed in their locations across Greater Manchester.
Watch this space for further updates!
Image credit: Simon Pantling | We Are Willow