Six Places In A Different Light – On display until Monday 11 December
20/11/2023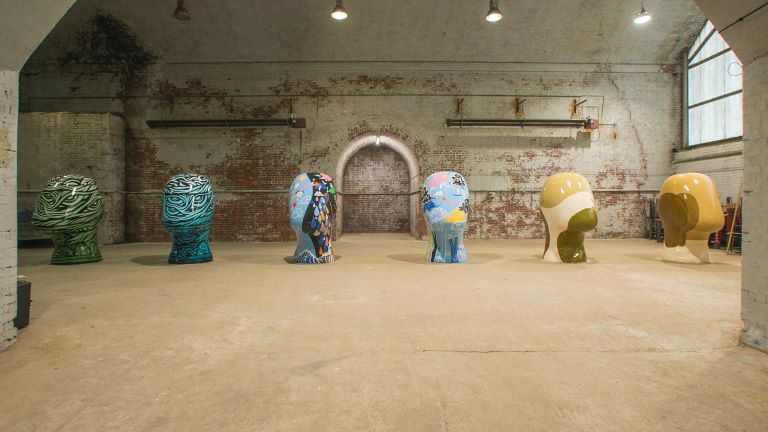 Manchester Mind are delighted to be once again partnering with creative studio and multidisciplinary arts collective We Are Willow, in collaboration with global art producer Wild In Art…
'Six Places in a Different Light', a free public art trail promoting mental health awareness and wellbeing, has launched in Greater Manchester. The trail features six striking hand-painted large-scale head sculptures and runs until 11 December. 
The project is inspired by the works of multidisciplinary art collective We Are Willow in partnership with global art producer Wild in Art and aims to engage new audiences through creativity,  encouraging open conversation around mental health and putting 'a different light' on it. 
The six striking large scale head sculptures showcase unique designs by internationally-acclaimed illustrator Tom J Newell, Manchester-based illustrator and community artist Kelly Ma and painter Ekun Richard and can be spotted at Mayfield Park, Greengate Square, the University of Salford's Peel Park campus, in front of the Imperial War Museum North and MediaCityUK.
Each of the 2-metre pieces is inspired by a series of creative workshops organised by local mental health charities. Members of Manchester Mind, START and The Jamie Horrocks Trust joined the three artists in discussion and reflection as a response to We Are Willow's 12-track album exploring topics of mental health. The participants decorated a number of miniature head sculptures based on the feelings evoked during the process, which inspired the creatives in hand-painting six sculptures reflecting the miniature designs and their own workshop experience. 
Renowned Northern illustrator Tom J Newell lent his recognisable bold line work in the creation of the Green and Blue sculptures in collaboration with Manchester Mind. Incorporating intricate details, the Green head is tied down to reality amongst flowers and foliage, while its Blue counterpart is seemingly in the clouds, concerned with thoughts and feelings. 
Tom says: "
I'm honoured to be involved with this project. I love the way they've structured things with the concept of the workshops feeding into the final designs, and I had a really inspiring experience working with the local Mind charities." 
Salford illustrator and artist Kelly Ma worked with participants from The Jamie Horrocks Trust to deliver 'Journey' and 'Embrace'. Utilising her passion for capturing moments we may take for granted, 'Journey' is a representation of one's undying hope in the midst of life's constant ups and downs. 'Embrace' is woven with grounded trees and emotive positive lyrics from We Are Willow's work, inviting trail visitors to embrace self-compassion. 
Kelly says:
"This is such a wonderful project and collaboration to be a part of so I'm thrilled to have this opportunity to be working alongside We Are Willow, Wild In Art and incredible charity partner Jamie Horrocks Trust. I'm looking forward to it opening up more conversations around mental health awareness in Greater Manchester and hopefully beyond."
Famous for his rich, earthy-toned art, Manchester-based painter Ekun Richard, alongside charity START, blends his style in the making of two warm and calming sculptures, exploring the themes of the unknown and the revolving question of what constitutes good mental health. 
Ekun comments:
"
The importance of mental health has been really important to me, especially in more recent years, so working on this project with We Are Willow and Wild In Art made a lot of sense. It's a great way to shine a light on this complex issue with different perspectives through art that can be enjoyed by the people of Greater Manchester."
Each of the sculptures features a QR code, directing visitors to a trail map, comprehensive information on the designs, the dedicated charities and participants and We Are Willow's 12-track album. 
The project works with local charities Manchester Mind, START, and The Jamie Horrocks Trust, alongside additional participants from BlueSci in Trafford and  Stockport and District Mind. 
It is also funded and supported by the NHS Greater Manchester, Salford City Council, The University of Salford, LandsecU+I and Arts Council England. 
Image: Simon Pantling | We Are willow