Primordial Presents… Gig Review
22/07/2019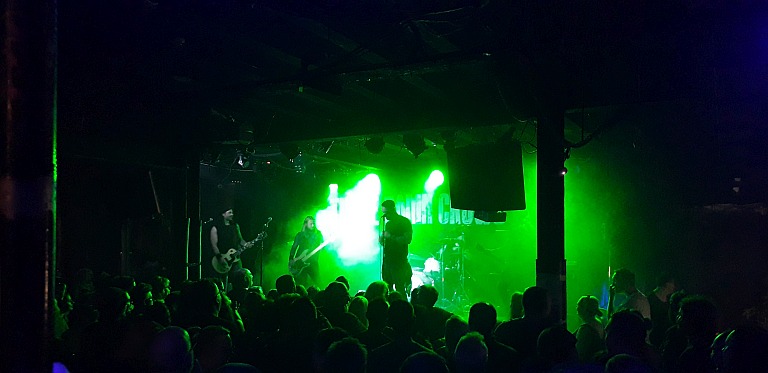 Last month we were delighted to be invited to the first Primordial Presents… gig at Rebellion in Manchester. Primordial Radio and their community did us proud and raised a whopping £761.94 from ticket sales, plus a further £62.88 raised on the night in donations! Not forgetting Patch Amnesty star, Michael who also raised a monumental £554.69 for us on the night.
Huge thanks to everyone at Primordial Radio, the four bands (Sertraline, As Sirens Fall, Ravenface, and Those Damn Crows), Patch Amnesty, everyone who attended and donated. Further thanks also to our own Stewart Lucas, Strategic Lead for Mind in Greater Manchester, who represented Manchester Mind on the night and who has written a review of the gig for us. You can also listen to a podcast (episode 130, from about 40 minutes) on the subject of mental health and music with Stewart and our Marketing Manager, Sam via the Primordial Radio website. 
Music, gigging and writing about the first two for Rockflesh are my escapes from work. However tonight was a bizarre experience that saw my two worlds inexplicably collide. You see this is no gig, this is a celebration of the dynamic community of like-minded individuals that has been created by the fledgling Primordial radio. As part of the celebration, and also evidence that us metalheads wear our hearts on our sleeveless battle vest, this is also a charity fundraiser on behalf of the Sophie Lancaster Foundation and Manchester Mind, the latter of whom I work for. All of which leads to the bizarre experience of being able to head to a work event in my Slayer shorts.
There are a number of clues that give away that this is different type of evening. The first is the sheer number of Primordial Radio T-shirts number on show, outweighing actual band merch by at least 1;20, the second is the jovial party, almost carnival like, atmosphere around the place. The beer is flowing (by the end of the evening we have drunk the bar dry of every type of bottled ale they had in stock) and this is a crowd ready to embrace the good time and enjoy the twin virtues of good music and good friends.
I tell you all this because when Sertraline stride on at 7pm they get the kind of raucous reaction that is usually the preserve of the headline act. They play a technically exact style of metal that in the wrong hands can come across as cold and aloof. However their masterstroke is the passionate, melodic and, at times, sultry vocals of Lizzie Parry. She has both range and presence and immediately bonds with a crowd that want to enjoy themselves. Not sure of song titles (so sue me I was also writing a speech and staffing an information stand) but what struck me most about their material was the emotion that they managed to weave into it. As I said angular and precisely tuned metal of this ilk can sometimes be un-emotive, but here you felt every song was played from the heart and that Lizzie meant every word that passed her lips. Overall really impressive and they richly deserve the whoops and howlers that greeted the end of the set.
At this point in the evening a slightly over excited charity rep (i.e. me) wanders on stage to say a few words of thanks (using far more expletives than strictly necessary) and to remind the assembled throng why we are here and why challenging and changing attitudes to mental health is so important. However before I could get too carried and started to live out my rock n' roll fantasies (in my head I was Ronnie James Dio), I was unceremoniously dragged off to make way for As Sirens Falls. They prove to a be dizzy awry of different influences and styles. There is a bit of Bullet for My Valentine here and Of Mice & Men there and Deftones everywhere. In fact musically they are all over the shop, but what they may lack in consistency they make up for in style and stage presence. They are quite simply a sensationally entertaining live band that just burns of stage. I may struggle to identify which one of my rigidly set sub-genres I can categorise them under, but they just ooze enthusiasm and passion.
The fact the audience not only embraced As Sirens Fall to their collective bosoms but also took them home with them and cooked them breakfast, meaning Ravenface have rather an uphill struggle. If truth be told their slick accessible metalcore does not illicit the same fevered response. However what they do is good and there is buckets full of melody. There is also a real professional sheen to their performance and at the end of their allotted thirty minutes you get the distinct feeling that they are only just warming up.
By the time we get to Those Damn Crows O'clock the place is not just rocking it's Rollin, jiving and probably death metaling. The inexplicable rebirth of British hard rock is still something that flummoxes me. It's utterly wonderful but the fact that hordes of twenty-somethings across the land have suddenly decided to start making records that were last in vogue nearly forty years ago is mind boggling. Those Damn Crows are a good time rock n roll band with ideas well above their station. Their approach and attitude makes it clear that they may have earnt their spurs in bars and clubs but they have their eyes on a much bigger prize. This is polished highly professional bluesy rock with one eye most defiantly on arenas and in Shane Greenhall they have a frontman who looks ready to deal with a crowd of thousands. Tonight he is utterly brilliant, he struts, he flirts, he pouts and he bonds. He manages a rare feat of having a humble swagger (think Danny Bowls) and comes across as if he would be as comfortable commanding your attention on stage as he would be sharing a pint down the local. My only only grumble is that his Welsh lilt is to so beautiful and so sexy that it feels rather a waste that he sings with an obvious American accent, but hey ho I am clutching at straws here as as a frontman he really is the bees knees. The rest of the band are far from shabby either, Ian Thomas and David Winchurch chuck out chunky bluesy riffs that gets the now well lubricated crowd frenziedly dancing. It is also looks that they are having as much fun as the punters. The set concludes with Rock N' Roll Ain't Dead, a song that is chanted for long before it actually gets played and then they are gone.
Tonight was about great music, but it also was a celebration. A celebration of the community and the connection that comes from loving the music that we do and the power that these bounds create. Everyone in that room was brought together by the fact they love rock and metal and they want to Primordial Radio to prosper. They also showed that they cared, evident by the fact that nearly two grand was raised by Manchester Mind to continue our work to provide support to those who need it. However even more importantly was come the end of the night everywhere you looked there were conversations going on between people who at the start of the evening had been strangers and this for me, more than anything else, is what makes our music and our community special.
If you want three months free subscription to Primordial Radio you can use this referral code – PR_60lKokLU