Primordial Presents II… Gig Review
28/10/2019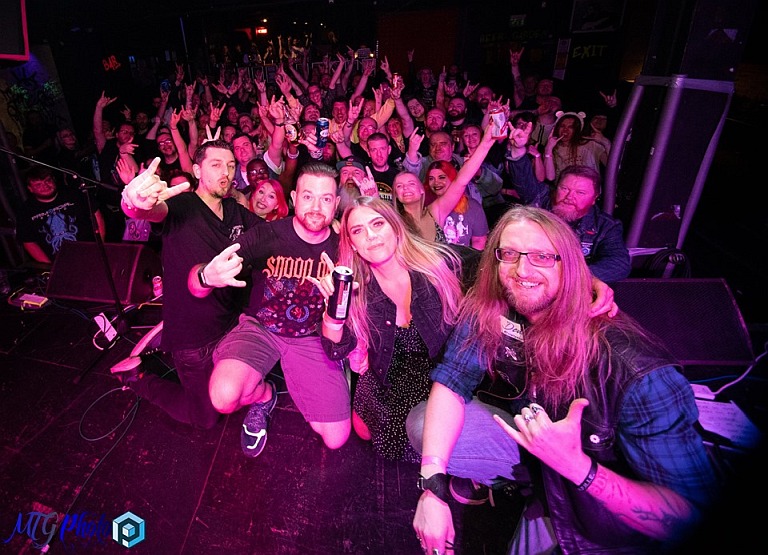 Primordial Radio is trading on that often used phrase that we as a group of fans of the same music are a family. This is the second of their "Primordial Presents" events, designed to move the friendships out of cyber space and into a bar. As the bond that binds us is music, they have thrown in four bands and also, as we are a caring and sharing community, they have made this a charity gig. Which is where I come in. I work for Mind as their Strategic Lead for Greater Manchester and one of the two benefiting charities tonight is Manchester Mind.
Watch a video of Stewart and Sam speaking at the gig with presenter Pete Bailey (via Facebook).
Jackal's Backbone are first up and surprise people by how seriously heavy they are. Primordial Radio are not easing punters in here, this is caustic in your face old skool Death Metal and it is rather good. I have a real thing for female growlers and Beccatron shines through with her venomous guttural delivery. There are flourishes of trad metal maiden-esque guitar and also dollops of Sludge, but in the main it is chugging and chunky Death Metal. Come the last couple of tracks, I have abandoned the Manchester Mind stall and am happily banging my head. Very impressive!
Wigan based local-ish boys Saurr are currently riding quite a wave. They slayed Manchester's Metal for the Masses final and made quite an impression at Bloodstock. They have a swagger and a rapidly expanding fanbase. What they offer is forthright Melodic Metal peppered with short sharp bursts of guitar and soaring vocals. Korn instantly come to mind with the stop-start stutter of the first few tracks. There is also a jittery groove that conjures up early System of a Down. However it isn't all comparisons to other acts, Saurr ooze oodles of self-conviction of their very own and seem to have carved a funky take on nu-metal. They also own the stage and have presence coming out of their ears. By the end of their short set, they have also won over the rapidly increasing crowd of punters at the front. Very much one to watch.
I loved Godsized, for me the fact that they never ended up headlining stadiums across the global is nothing short of a national disgrace. They were a British Clutch, dispatching chunky bluesy riffs with a smattering of classic rock pizazz.  Blind River has risen from Godsized's ashes in the same way that Thunder appeared from Terraplane's dying embers and they have ratcheted up the Classic Rock side of the sound to create a rifftastic monster. They explode on stage with confidence and style, blowing the mind of everyone in the room. This is rock with a bluesy edge and buckets of style. It is not smooth but it is certainly melodic. The riffs are big, thunderous and infectious. The song structures are just loose enough to have a rough and ready feel. They are utterly brilliant and pretty soon have the audience eating out of their hand. In Harry Armstrong, they have one great frontman. He struts, he croons and he banters. He also posesses a soaring voice with impressive gravelly undertones. They also have the songs, with the bluesy 'Can't Sleep Sober' and the raucous 'Resurrection Sister' being the stand outs. Overall I was in awe, they were that good. Catch them quick, they aren't going to be in small clubs for long.
After my now arbitrary appearance on stage to talk about Manchester Mind's work, we get our headliner Tequila Mockingbird. It is immediately obvious they are suffering from following the extraordinary Blind River (as opposed to the slightly underwhelming Mind in Greater Manchester employee). Tequila Mockingbird are not bad, they just come across as fairly pedestrian. They play slick, inoffensive Americanised rock n'roll. As said, it's well-made and well-presented, it just doesn't light my fire in any way. It feels mean to be negative about a band giving up their precious time to appear at a charity show (especially one supporting the organisation I work for) but, for me, it fails to get out of second gear and just feels awfully safe.
But in the end what matters is that a room full of people have had a grand time. Primordial Radio have shown once again that there are plenty of people wanting to buy into their crazy idea. We, at Manchester Mind have raised more cash to continue being radical (about £1000) as well as disruptive about mental health. And you can't say fairer than that.
If you want three months free subscription to Primordial Radio you can sign up online using this referral code – PR_60lKokLU
Words by Stewart Lucas, originally shared on www.rockflesh.com