Overcoming our fears: Manchester Mind's Team Skydive
05/10/2023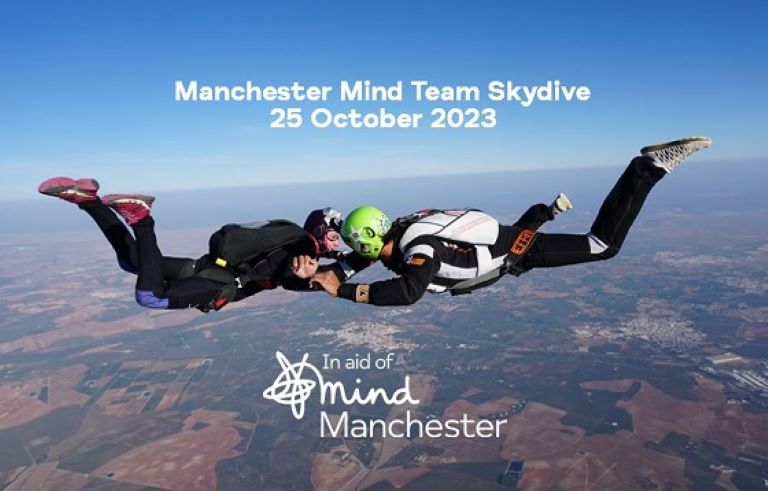 Our charity income is enriched every year by hundreds of incredible supporters. When news reaches us that someone is bravely fundraising in aid of our local mental health services – be it facing their fears or pushing through a comfort zone, however gently or boldly – we feel inspired and motivated to continue our work, day by day.
Since 2014, we've been privileged to meet many Manchester Mind legends, from cyclists journeying 1000 miles to those taking their first ever cold water swim of 10 metres. The feeling of awe never fades, nor does our gratitude.
This is why we're ready to now take a leap of faith as the Manchester Mind team skydive! Joanna, our Fundraising Manager said, "Emulating the daring spirit of our epic fundraisers, twelve charity staff have signed up to leap from a plane this October. We collectively aim to raise £3,000 in aid of our local services, which will be a positive way to celebrate World Mental Health Day and our 34th charity anniversary."
Organising a team challenge for 12 people comes with its own hurdles. We know from our work with the charity's incredible fundraisers that doing a challenge doesn't just involve the day and activity itself, but months of organisation, training and dedication. With something as daring as a skydive, there's always the added test of not getting discouraged or dropping out! Sian from our Welcome Team said, "I've always fancied jumping out of a plane, and when I mentioned this at work, multiple work colleagues said they shared this odd desire, but mainly as it'd be worth it to raise funds for our local charity. I was so pleased and surprised by people's eagerness to do this in aid of our local charity – we gathered 12 volunteers within a couple of days! We set a date, making sure no one had changed their mind, then booked the skydive. In a few weeks we'll have to actually do it!"
Manchester Mind strives to be there for people who struggle with difficult thoughts and emotions. We know that living with a mental health issue can be all-consuming, and our services aim to help people gain the skills and resilience to alleviate the pressures of their poor mental health. Overcoming fears to step out of a plane and descend for 11,000 metres isn't just a fun team social, it's symbolic of how we embody our values in our work each day.
Now our skydive is booked, there's no going back, the countdown is on! And we each face questions of how to prepare. Unlike a physical challenge, such as a marathon, we can't really prepare our bodies, but with apprehensions and anxieties building, our ability to overcome these difficult emotions will be the most important step to becoming ready.  Marianne from our People & Wellbeing team commented, "I have always wanted to do a skydive but could never work past my fear of heights. However, when the opportunity arose at work to raise money for Manchester Mind, something just clicked – it was the motivation I needed to push past the fear and do something amazing for an amazing cause. Let's hope I feel as motivated on the day!"
Jing Yi from our Children & Young Person's Service added, "I've always been a believer in being scared and doing it anyway. I've always been afraid of heights but I also love going on adventures and doing once-in-a-lifetime things. If there's ever a time to put my principle of "doing it scared" to the test, fundraising for a cause so close to my heart is the time."
Our team will head into the Northern clouds on 25 October. If you can support our efforts by making a donation, however large or small, that will really help boost our confidence and make the return to earth all the more heart-warming: https://www.justgiving.com/team/mmskydive
Thank you for being there for Manchester Mind, keep an eye on our social media and website for updates and team photos…