Mental Health Awareness Week 18-24 May 2020
15/05/2020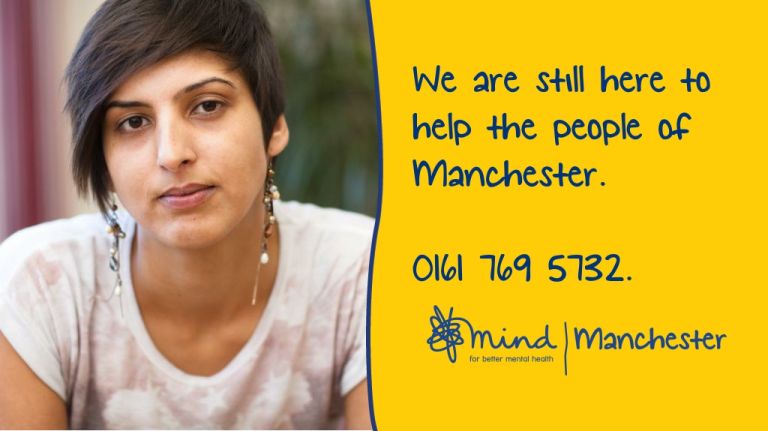 We are still here for you at this difficult time: Manchester Mind, issues timely reminder as we mark Mental Health Awareness Week
"We know now, more than ever, people are struggling with their mental health. We know that some people may be experiencing poor mental health for the first time, or existing conditions may be exacerbated. We are here and ready to help anyone in Manchester who needs our support. Please help us share this important message."
Elizabeth Simpson, CEO, Manchester Mind
As we mark Mental Health Awareness Week (18-24 May), Manchester Mind issues a reminder that they will continue to support people experiencing mental ill-health during the pandemic, delivering vital services and playing a part in the city-wide community response by providing nutritious meals to those most in need.
Tying into this year's Mental Health Awareness theme of "Kindness", Manchester Mind is urging the public to display their own acts of kindness, towards themselves and with one another, but is also asking them to share the message that Manchester Mind are here to help, so no one is left struggling with their mental health.
Manchester Mind usually operates from the Zion Community Resource Centre in Hulme and also delivers services for young people from their base in Levenshulme. Services have been rapidly adjusted so they can be accessed from home by those in need, either online or by telephone.
Services continue to be delivered to all those who were already receiving support from Manchester Mind. In addition, anyone who is experiencing a mental health issue for the first time is encouraged to get in touch to access help.
In response to COVID19, Manchester Mind has introduced two new listening services, one for young people (age 15-25) and another for over 25s. The listening services are for anyone struggling with their mental health, social isolation, worries and anxieties. Callers can talk to someone who will take the time to listen and understand, while also signposting other helpful support services.
For adults who are struggling with their mental health, they also offer free and impartial advice for benefits, including Universal Credit claims, debts and housing. For young people (age 15-25) they provide counselling, advice (for benefits, work, housing, studies or money worries) and a virtual wellbeing café. 
Meanwhile, like many other businesses, Manchester Mind's community café and their outside catering enterprise, Good Mood Food, have both temporarily ceased trading, meaning the loss of a vital income for the charity. Recognising that poor mental health, loneliness and lack of access to healthy food are intertwined, within days of the lockdown the team responded to the crisis to do what they do best, cooking and delivering high quality, healthy and nutritionally balanced meals, to those in the greatest need.
They have been turning food donations from Fareshare into hundreds of home-cooked meals, on average producing over 1500 meals per week for Manchester City Council's community hub, Maverick Stars Trust (for young people who would normally receive school lunches), and Just Life.
For thirty years alleviating poor mental health, providing advice, and offering healthy food to the most vulnerable, have been Manchester Mind's priorities. They want to ensure that they can continue to play a vital role in helping those most in need within our community during the current crisis. The need for independent organisations like Manchester Mind is greater now than ever before. Please help spread the word.
Manchester Mind are still here for the people of Manchester.
To help us make a difference and support our emergency food response we are accepting donations via JustGiving (from Monday 18 May):
justgiving.com/campaign/MM-emergency-food-C19
Alternatively, donations are accepted via text by quoting MM30YEARS to 70085 (£3) to provide free healthy and nutritious meals to people in need within our community.
Thank you for your kind support
– £3 will buy 2kg of lentils for 30 portions of Dhal
– £5 will supply enough pasta to make 50 meals
– £10 will deliver two fresh fruit and veg boxes to someone in need at home
– £20 will provide two family bags of fruit, veg, pasta, rice and condiments
– £50 will purchase 1,250 food containers to serve prepared meals in
– £100 will provide 10 boxes of emergency provisions, tailored to individual needs
– £250 will ensure we have ongoing stock of PPE to prepare and deliver food safety
– £500 will fuel and maintain three delivery vehicles
#ManchesterKind