Men in Mind's Story: Cycling to raise awareness of men's Mental Health
05/09/2019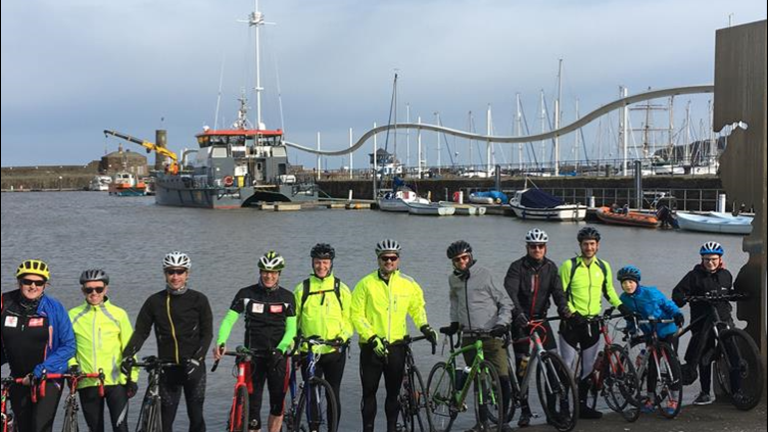 We are a group of guys who aren't mad for labels, not big on medicalising complex mood and personal challenges, but we do know that a regular bike ride with other mates helps, and the focus of our annual ride helps get us out training in winter in the snow and rain.
This year the Men In Mind cyclist group headed out on our longest journey to date. Travelling from Newcastle to Edinburgh up the East coast, we hoped to do our bit again to raise money for Manchester Mind and link into the Time To Change campaign. We were kindly kit sponsored by Tunnocks Teacakes, Ken Fosters Cycle and Anatomy Physio, as well as other workplaces in London and Manchester from the worlds of architecture and advertising. Last year's Coast to Coast was 155 miles of pain for the 14 cyclists, and while this year we only had 6 of us at the start line, we still hoped to raise money and awareness of men's mental health.
The weather was good, and the initial saddle sore soon wore off as stories and light hearted chat forced our weary souls up the Eastern coast hills. The views were epic around Lindisfarne and The Farne Islands, and there was a section of road hugging the Scottish coast where we watched the sun set whilst hitting speeds of 50km per hour. Each day we were supported our trusty driver, Paul, who provided a transit van full of nibbles, snacks and water between our overnight stops. Wherever we went we met people who asked what we were doing, and when we explained the cause it was always met with support and the odd donation on the spot. My own favourite was from a rough tough Geordie who'd had a brain injury and bouts of depression as a result – we met him on a good day but hopefully just talking with us was a help. He added £1 to our total and his mate 50p, money helping, but talking helping even more in our view.
Another story that we all enjoyed was meeting a local chap post-curry one evening, who had a tattoo on his back of a very famous football manager. He asked what we were 'all about' and when one of the lads explained he replied saying "men are inherently unable to talk about this stuff" (whilst throwing a few expletives in, for good measure). His words, as caustic as they might have been, resonated with me. I know that the £2500 we raised is great for Manchester Mind, but I still believe that the effort of cycling together each week is where we show our real value. Support, informal conversations, and checking in with each other is key.
Mental health for our age group (30-57 years old) is a killer. WE tackle this head on with the simplest medicine we know: friendship, humour and yes, daring to care as men.
Written by Chris Macintosh.