Men in Mind – A Coast to Coast Cycle
09/05/2018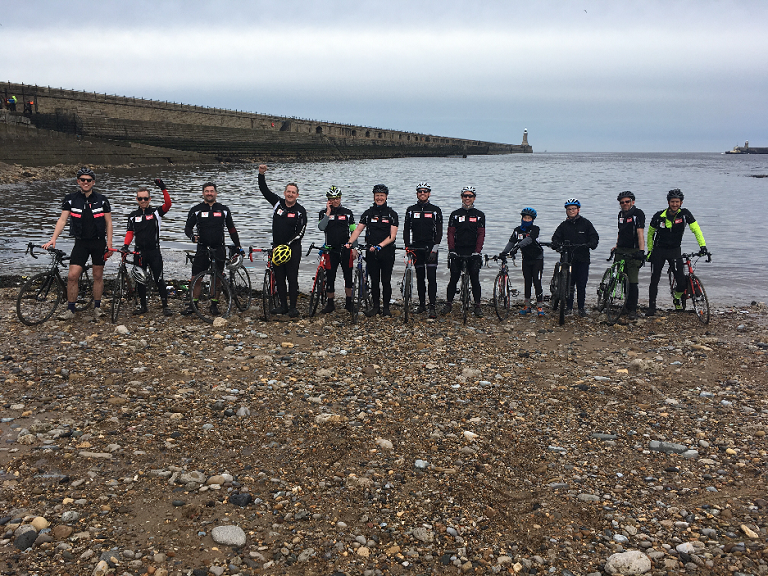 By Chris Mackintosh
We started off with little thought as to quite what we had taken on, a motley crew of support van driver Paul, 11 cyclists and two further guys joining us for day long segments of our Coast-to-Coast cycle ride.
What we did know was that it was becoming increasingly important for men to talk openly about their mental health, the stigma, and, also do so in a fun, friendly way that would also allow us to have a target to raise some money for Manchester Mind. So here started MenInMind.
Between January and April 2018 the hard miles of training were put in and each of the group did there bit in the rain, sleet, wind, snow and country lanes of Yorkshire, Cheshire, Outer London and Dorset before coming together for the main ride 6-8th April from Whitehaven on the west to Tynemouth on the east coast.
So assembled on the start line were our proudly 'way below elite' group aged 12-42 years sponsored kindly by Tunnocks and Architects FCBStudios along with over 250 other kind individual sponsors that hit a £8000 fundraising total. We were even joined by friends as far away as Malawi who did the same distance in virtual support and unison with us as they were unable to make the ride.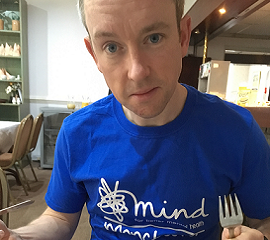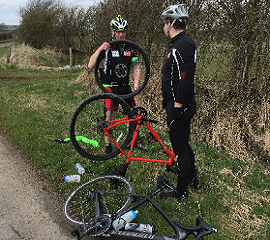 Each day we got into a regular pattern of full English breakfast then into the saddle for what proved to be a great bonding opportunity and raising awareness as we went. Whether it was a casual chat with an elderly chap in a coastal chippy, or the young dad that dropped us £20 on the final climb into Tynemouth finish line.
Day one took us from Whitehaven to Carlisle, incredibly scenic, and, also the longest day at 67 miles but with awe-inspiring views of the Solway Firth across to Scotland.
Day two was shorter, but had the highest climbs we did across Hadrian's wall territory and numerous climbs that nearly broke our will power, weary legs but not our team spirit.
As, the final day approached we sensed our achievement as we broke over 150 miles entering Newcastle with the final leg of around seven miles to Tynemouth finish line, dipping the sacred wheels into the North Sea with a sense of MenInMind having produced a genuine collective effort and endeavour that we'd all shared in.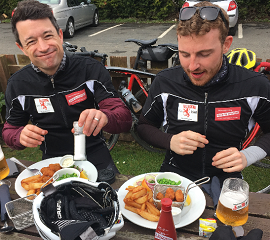 Common to all of us was a belief that men do need to talk, do need to be open and how widely mental health, its stigma and effects reach.
If it wasn't each of us directly, then for many of us we'd been affected by family, friends, wives or work colleagues that had been touched by the challenge of adverse mental health. But, what we felt we were part of was something unique, as the regular pre-ride Sunday training sessions, virtual peer support via Strava as the miles and the distances we were capable of grew became quite special.
It was also amazing to have two youngsters aged 12 and 13 on the ride who could see grown men happy to talk and be part of conversations and an event about positive mental health.
The group started as long shot, an aspirational goal and a bit of a whim. However, as we move into our sixth month of regular cycling it is about much more than that. There is a growing cohort of us that cycle and we know that the group is a space for guys and sons to talk openly about what can be a highly complex set of issues and gain the benefit of regular physical activity, itself a real boost in staying mentally well.
A final quick word of thanks too for Paddy Kendal for his team input in organising the lycra. Never has one person been so instrumental in making us look equally daft, but equipping us with us the kit that bonded us together. Cheers Paddy and the team and Manchester Mind for all your superb fundraising support.
Visit MenInMind's Justgiving fundraising page
To do your own sponsored challenge to raise money for Manchester Mind visit our Fundraising page.