Headstock release cover of Joy Division's Love Will Tear Us Apart to mark 64th birthday of Ian Curtis and raise funds for Manchester Mind
14/07/2020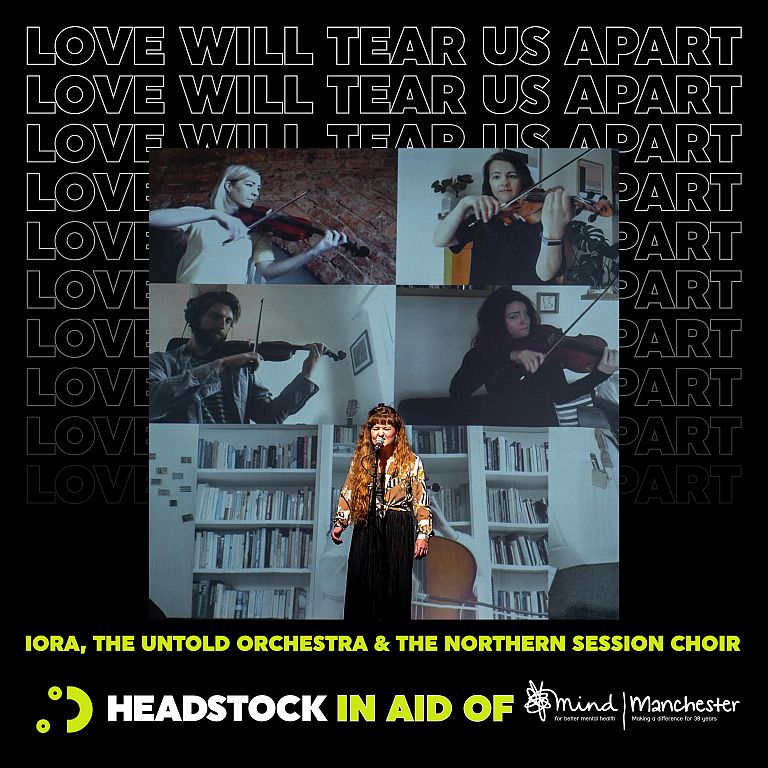 Music and mental wellbeing festival, Headstock, has released a special cover of Joy Division's Love Will Tear Us Apart to raise funds for Manchester Mind.
The charity single is a special collaboration between The Untold Orchestra, Manchester's freshest collaborative ensemble, The Northern Session Choir featuring voices from the Royal Northern College of Music, and electronic alternative pop singer/ songwriter, IORA.
The cover was originally performed at Headstock's 'Moving Through the Silence' event on United We Stream Greater Manchester on 18 May to mark the 40th anniversary of Ian Curtis' death – and is being released as a charity single on what would have been the Joy Division singer's 64th birthday.
The collaboration was led by Manchester musician and choir Director, Dan McDwyer, who brought together 30 of Manchester's finest musicians during the Covid-19 lockdown to record the special version of Joy Division's most iconic song. The cover was arranged by McDwyer along with Sam Davies and Tom Fripp.
The parts were recorded individually from participating musicians' homes in order to adhere to government advice around isolating, distancing and infection control.
All proceeds from the sale of the single will go to Manchester Mind, supporting our work delivering vital mental health services across Manchester.
Headstock Founder, Atheer Al-Salim said: "We're absolutely thrilled to have been able to work with Dan McDwyer and all of incredibly talented musicians who gave up their time for free in support of Manchester Mind, a fantastic charity who's support and services are needed now more than ever.
At Headstock, we're firm believers in the positive impact that music can have on both our mental and emotional wellbeing, so we really hope that people enjoy the single."
Choir Director, Dan McDwyer said: "Mental health is very close to my heart and I have always been extremely passionate about the positive effects of singing and music in general on wellbeing and mental health. It is an honour to release this single raising money for Manchester Mind in order to help others during this time."
Singer, IORA, said: "I find music an invaluable tool to express myself, to make sense of emotions, to be playful and to stay curious. Whether it be listening, playing or singing, music has an important role to play in our lives."
The single has been distributed for release across iTunes, Apple Music, Spotify, Amazon Music, YouTube Music / Google Play, Pandora, Deezer, iHeartMusic, TikTok, Tidal and Shazam, and is available to stream or download now.