Kay's Story: Get Yer Skates On…
12/05/2023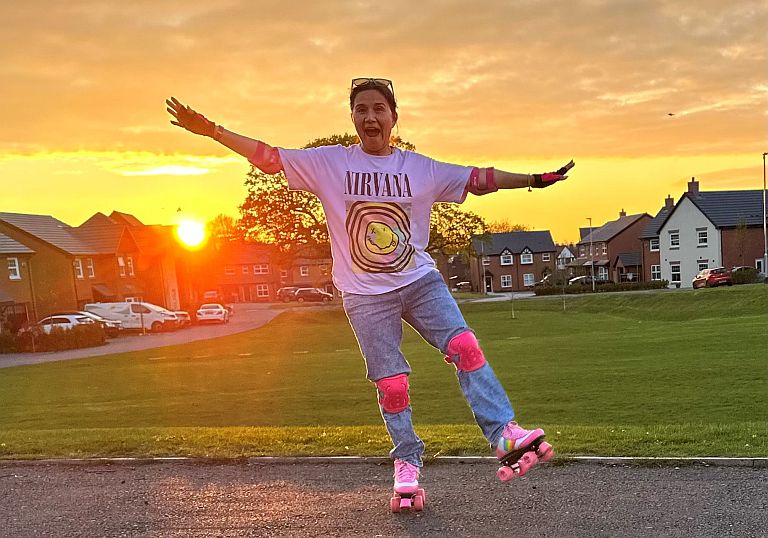 Since turning 40 last year, I had a realisation that a lot of my anxiety centres around not doing enough (well, anything at all to be honest) to look after my own wellbeing needs. I constantly worry about whether my children's, elderly relatives and everyone else I encounter, needs are being met. As many people do, I've spent years not prioritising myself and letting things that were once important to me get forgotten. Anxiety around daily life will always be there, but now I have started to do activities that are just for me again, helping to keep me present (at least for a short period!). I'd always been a very active person on sports teams up until my early 20's, so in April this year, 28 years after I last wore roller skates, I bought a pre-loved pair and started learning to skate again. I've actually learnt more tricks now than in my early teens!
Focusing on learning a new movement helps me to feel present, rather than constantly thinking about everything else that's going on in my life. You have to really think about what you're doing with particular parts of the body and using all senses to navigate round the park / pavement I'm skating on. I literally can't think about anything else at the time I'm skating.
"For me, it gives me validation that it's not selfish to do something that's just for me."
You really are never too old to learn something new or pick up where you left off, such as playing a sport/instrument or perhaps some form of crafting. I highly recommend if you did something years ago that you haven't done for a while or there's something new you would like to learn to do…. give it a try! It doesn't really matter what the activity is, or whether you become really good at it or not. As long as it's an activity that makes you feel present and focused on what you are trying to do.
Most importantly, it should be an activity that isn't for the benefit of another person; only yourself.
Kay, People and Wellbeing Manager