Josh's Story: Coast to Coast 14 Day Hike
24/02/2023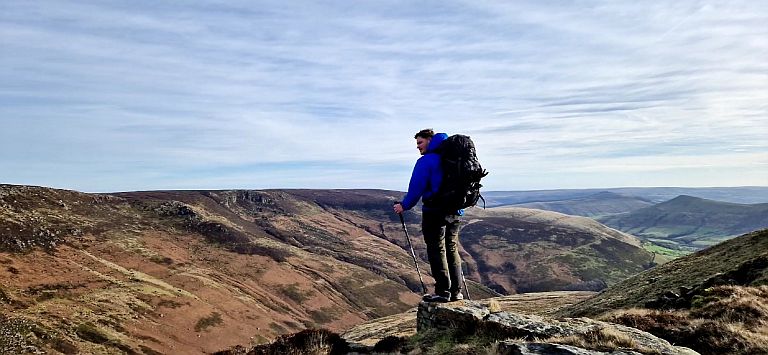 It's always inspiring to hear the incredible things our fundraisers do to raise money for our local charity. We spoke with Josh Tyldesley who runs a hiking and wild camping podcast called 'Open Spot Podcast' which promotes mental health awareness, alongside sharing his love for the outdoors. On 28 February, Josh will begin walking across the width of England in an epic fundraising challenge in aid of Manchester Mind…
Tell us about Open Spot Podcast and your Coast to Coast challenge.
At the end of February, I'll be walking from St.Bees coast in Cumbria to Robin Hood's Bay in North Yorkshire. This is a 14 day consecutive walk, and I'll be wild camping on most nights. Since I was at school I've always enjoyed being outdoors and adventure sports. I remember going rock climbing and walking on school trips and falling in love with it. A few years ago I decided to invest more of my time and money into this hobby; I began buying camping and hiking equipment. Around this time I also started my YouTube and Instagram Podcast accounts called called 'Open Spot Camping' to promote and share my passion for the outdoors, which I hoped might encourage more people to get involved. I normally wild camp once a week and try to walk every day. This however, will be the biggest challenge I've faced yet, as I've never done a long distance hike like this before, especially not alone. I'm so excited for this journey, but it will probably be one of the hardest things I've ever done.
What are your motivations for fundraising for Manchester Mind?
Throughout my life I've struggled with depression and anxiety, and I really want to help others who have been in similar situations. I understand what it can be like for people who are living with poor mental health, and I wanted to raise money for a charity that directly helps others in my home city of Manchester. Getting into hiking and being outdoors has really benefitted my wellbeing, and I've spent the last 6 months training for this charity challenge.  I'm hoping that my 14 day coastal hike will raise greater awareness for mental health issues and inspire others to get active. I firmly believe that being in and around beautiful nature can be so beneficial to us all. It's important to me that I give back to the community, and Manchester Mind is such a great charity, because they really do make a lasting impact on the lives of those who, like me, have struggled all their lives.
What have you learnt from the experience of fundraising?
The first thing that I've learnt is the importance of speaking out about mental health. It's so important to talk to other people and feel heard when you do speak to someone about your struggles, and this really ties in with the work that Manchester Mind does. Secondly, I've learnt about setting achievable goals for myself, and the rewarding feeling when you complete those goals. Whilst hiking, we must only attempt things that are safe, and not make it about ego. At the same time, it's about pushing yourself within your capabilities and I've really learnt how rewarding it can feel when you complete a target that you've set. Hopefully I can reach my donation target before and during the hike! Finally, I've learnt about the importance of thinking of and helping others, and this is why I've chosen to raise money for a charity that promotes this in their everyday work.
Any other comments you'd like to share?
I want to say thank you to Manchester Mind for supporting me throughout my fundraising journey, and for the great work they do across the city. I love reading about other people's experiences and stories on their Facebook and Instagram, so it feels great to be able to tell my own. I also want to say thank you to everyone who has supported me in the build-up to my challenge, whether that's through donations or emotionally. I deeply appreciate this; it's encouraging me to keep on with my training and promoting my message across my platforms. I wouldn't have been able to do any of this without such strong support.
On behalf of everyone at Manchester Mind, may we wish Josh good luck on his inspiring adventure. If you would like to show your support, please feel free to donate online here: Josh Tyldesley : For better mental health 
Instagram: openspotcamping