Iffat's Story: How the small things make a positive difference
10/05/2021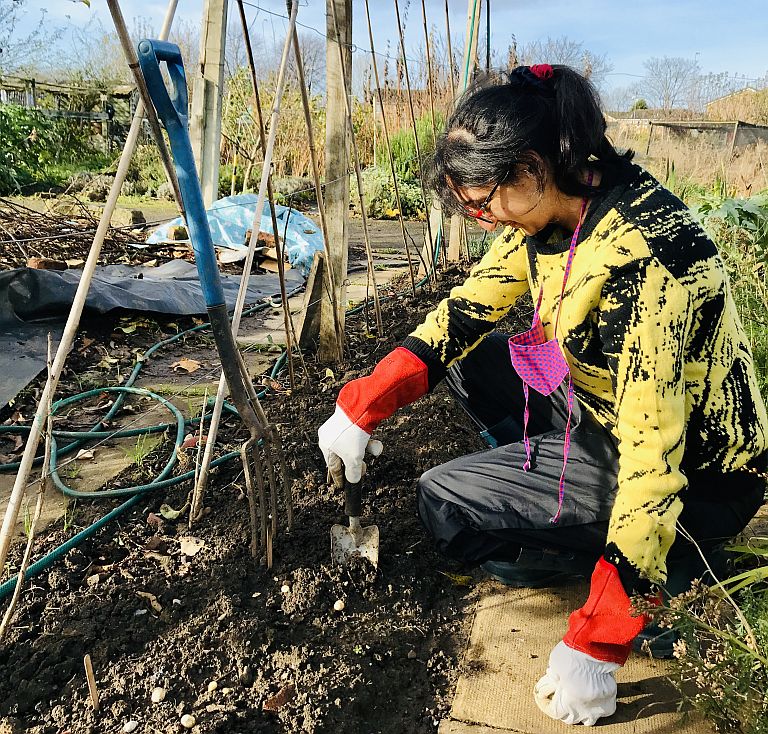 I first volunteered for Manchester Mind in 2014 at the Children and Young People's Project in Levenshulme. I worked in the café. At the time, I was struggling to overcome Anorexia and I found working with food really challenging. Volunteering alongside supportive people, working with food and eating with others supported my recovery.
6 years later, in 2020, recovered and feeling mentally well, I applied to volunteer at the Manchester Mind Café. I wanted to use my experience to help other people with their mental health and I knew that the benefits of volunteering would continue to support my own wellbeing.
Unfortunately, just a few weeks after I started the pandemic hit and volunteering in the café had to end. I also volunteer for the Royal Exchange Theatre and Royal National Institute of Blind People and my activities with them were also stopped.
With nothing to fill my time I was encouraged to attend the allotment project, which was Covid-19 safe due to being outdoors.
"I am not a gardener and gardening is something I have no experience of so the prospect was daunting. I am generally someone who sticks to what I know and I usually opt for the easier option, so I am very proud to say that I am now volunteering weekly at the plot."
I really enjoy it. I have met new people and learned new things and having a routine, something to do and somewhere to go has really helped me to manage the impact of the pandemic. I am grateful I have been given the opportunity to do something productive and meaningful with this time.
My confidence has grown and I enjoy being able to support people and contribute towards growing food. I value good nutrition and try to eat a lot of organic fruit and veg, so I am grateful to have learned about the food system and importance of growing food.
"I recommend volunteering with Manchester Mind to anyone. With their support, I have pushed myself to try something new and learned that challenge can be rewarding. I now feel I have the confidence to explore more new opportunities in the future and perhaps try things I may otherwise have dismissed."
I sadly experienced a close bereavement a few weeks ago and have been struggling with my grief. The person I lost struggled with his mental health. The staff and volunteers have been really supportive. It is great to be part of an organisation that emphasises good mental health and helps people to achieve it.
Manchester Mind know that it really is the small things we do and say that can make a positive difference to someone else's life.
You can find out more about our allotment here