Hope Blooms: Our Spring Bulb Collection
27/08/2021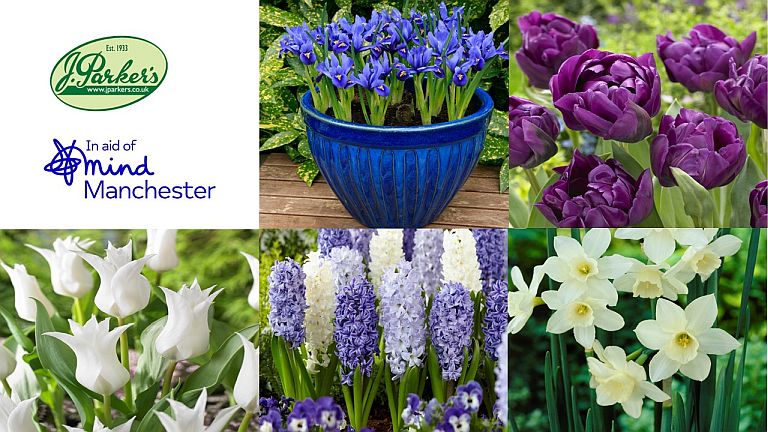 The last 18 months has shown how important nature is to our wellbeing…
So please join us in planting floral bulbs this autumn, so we can look forward to seeing  beautiful blooms next spring!
Whether you are an accomplished gardener, a novice or don't know where to begin, there is no question that gardening provides good exercise, is therapeutic and helps release endorphins, also know as the 'happy hormone'.
Engagement in gardening activities is shown to promote social relationships, family connection, emotional and mental wellbeing, and to moderate stress, reduce depression and anxiety.
Last year, Manchester Mind were thrilled when local garden plant and bulb company J.Parker's got in touch and offered their help. Seeing the impact our services have within the local community, particularly our "Food For All" project, they wanted to see how we could work together.
The relationship grew over the months, as the JP team bonded with our volunteers to create our new sensory garden at the community allotment.
Now we are proud to collaborate on the "Spring bulb collection" to help raise funds in aid of Manchester Mind.  
The J. Parker's team have carefully selected blue and white spring-flowering bulbs to match our charity colours, whilst the optimistic name of the collection, "Hope Blooms", was specifically chosen by our staff and volunteers. When planted together in groups, these flowers create a serene display, and many of the floral varieties are delicately scented to evoke your own sensory garden.
The collection features:
10 Tulip Negrita Double
25 Iris Reticulata Harmony size 5/6 Bulbs
10 Hyacinths Fragrant Sea Mix size 14/15 bulbs
20 Narcissus Pueblo size 8/10 bullbs
10 Tulip Tres Chic size 10/11 bulbs
Each collection contains 75 bulbs for £19.95 (saving £12) with £3 of each sale generously donated to Manchester Mind. This will help our "Food for All" project in so many ways, for example:
£3 will provide a meal kit with an easy to follow recipe to feed a family of four
£30 will deliver one "walk and talk" session with a mental health worker at the allotment
£300 will pay for a six week therapeutic horticulture course for 1 person
To buy your special "Hope Blooms" collection please visit the J.Parker's website.
We would love to see your pictures of planting the bulbs or with the arrival of blooms next spring.
Please share with us on social media:
Facebook
Twitter
Instagram
Instagram allotment page
Thank you for your kind support, our good thoughts remain with you as the seasons shift once more.