Good Mood Food wins Spirit of Manchester Business Award
09/10/2019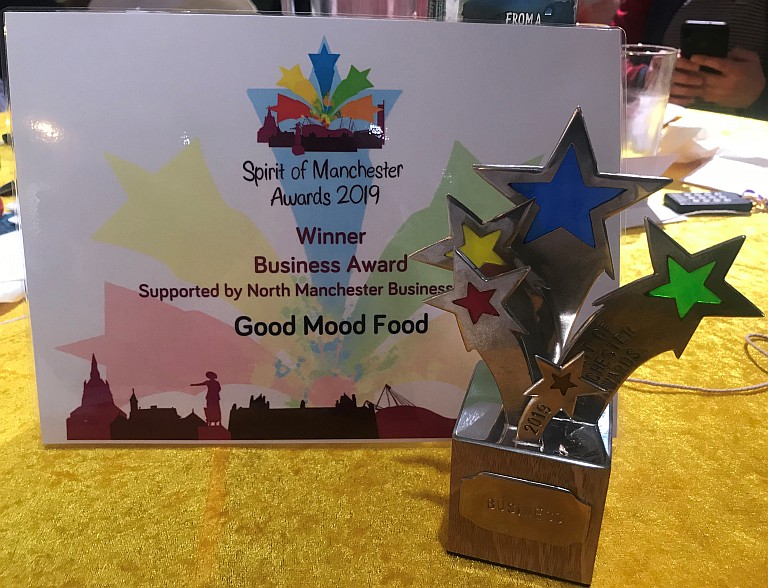 Good Mood Food, our catering social business was honoured and delighted to have received the Business Award at this year's Spirit of Manchester Awards, which took place last Thursday. The Spirit of Manchester Awards is a series of awards which Manchester Community Central (Macc) has been running since 2013. The Awards celebrate and highlight all the excellent work being carried out in Manchester's voluntary, community and social enterprise sector.
Good Mood Food was nominated for the award in the spring and then shortlisted, alongside two other organisations, by a panel of judges. As part of the voting process a film made by Good Mood Food was shown during the ceremony. You can view the film here.
Good Mood Food was set up in 2005 with an initial aim of offering additional training opportunities to our volunteers and as a way to highlight the benefit of good nutrition on mental health. The business has grown since then and last year it moved into its own industrial catering unit. This move has allowed us to take on more customers and cater for much bigger events.
This award is testimony to the dedication and passion of our staff and volunteers who work tirelessly to ensure its ongoing success. Profits from Good Mood Food enable Manchester Mind to deliver vital services, including our Food For All projects. These services include our Pay What You Can three-course lunch sessions originally delivered at our community cafe but now also at other venues in Manchester. Pay What You Can was set up in 2015 to address the increase in the number of people accessing our services who were experiencing food poverty. Our experience tells us how important good nutrition, social interaction and a welcoming and caring environment can be, even if it is just one session a week.
By ordering food from Good Mood Food people are directly contributing to our ability to feed people in need, as well as supporting people with their mental health. So far this year we have served or given out approximately 3500 free meals.
The award was kindly sponsored by North Manchester Business Network.