Wellbeing Workshops for Organisations
Events Date: Dates available to suit your organisation | Location: Online or Face-to-Face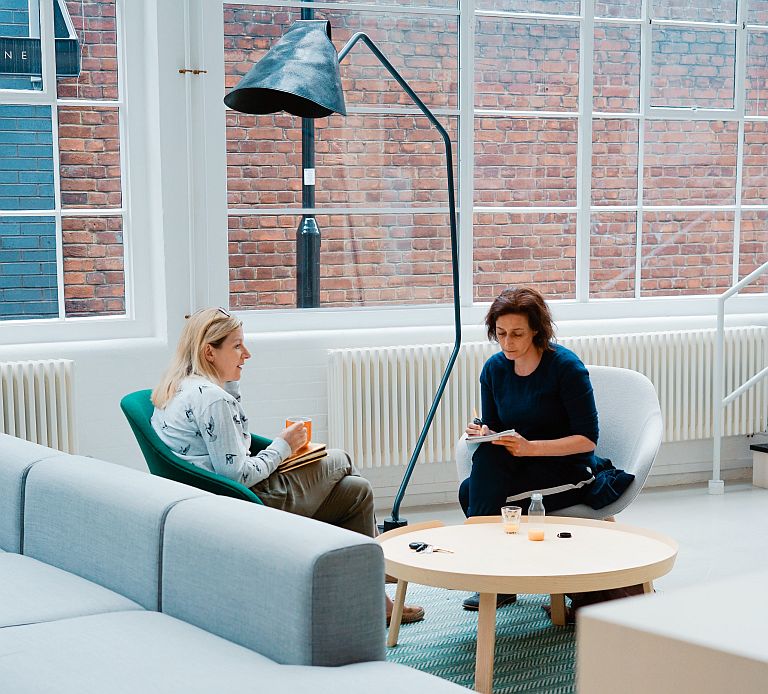 Wellbeing Workshops
It can sometimes be challenging to look after ourselves, sometimes we just don't know where to start, or perhaps we need some fresh ideas and a bit of accountability. Manchester Mind has developed a selection of wellbeing workshops to encourage self-care and promote positive wellbeing in the workplace, and in your personal life.
These sessions are a great addition to mental health awareness, line manager training and mental health first aid.
They are all designed to be 60-minutes in length but can be extended to provide more depth to the learning and more time for interaction.
The following workshops have been designed to be practical and experiential.
Experience effective ways to work the 5 Ways to Wellbeing into your day to day life – Connect, Be Active, Keep Learning, Give & Take Notice

Understand what stress is and how it affects the body, and learn some coping techniques to manage stress.

Building Better Sleep Habits

Address your sleeping habits and why its important for your wellbeing, including learning a pre-bedtime muscle relaxation if there's time at the end

Managing Work-Related Stress

Gain an understanding of work-related stress, work-life balance and burnout, before exploring actions you can take inside and outside of the workplace to manage work-related stress.

Introduction to Mindfulness

Understand what mindfulness is, experience some breathing techniques and meditations, and how mindfulness as a tool can be learnt – For beginners

Mindful Eating Workshop (face to face)

Food is one of the pleasures of life, but quite often we eat mindlessly, eating while watching tv or looking at social media and not even noticing what we're eating or how it's tasting. In this interactive session, we'll talk about the importance of being in a relaxed state when we eat, do a couple of mindful eating/drinking meditations, and give you an opportunity to reflect on how eating more mindfully might impact on you and your food choices.

Activating Happiness

Explore what lifts your mood – music, play, laughter? Understand the link between laughter and positive wellbeing and experience an uplifting session.

A basic session designed to get people talking about mental health, symptoms of anxiety and depression, and the importance of having conversations with meaningful connection.

Supporting Mental Health – Effective Conversations

We sometimes worry about starting a conversation or saying 'the right thing' if someone talks to us about their mental health; this workshop will build confidence on speaking about mental health with peers with an opportunity to look at a case study.

Anxiety and How to Calm the Nervous System

This workshop builds an understanding of what anxiety is and the response it has within the body. It then introduces some calming techniques and some ways to challenge anxious thoughts to manage feelings of anxiety.

S.A.D. Seasonal Affective Disorder

Seasonal Affective Disorder is a type of depression that some people experience during particular seasons or times of year. However, many of us can feel a little lower during the winter. This workshop will outline the signs and symptoms of S.A.D., give you some tips and tools to keep you motivated throughout the darker months, to regulate your natural body clock, and to help ease those winter blues.
Other sessions can be available – we have a range of expertise for mental health, wellbeing, and children and young people. Please let us know if there is a topic you'd be interested in that isn't listed above as we're keen to adapt our offer based on organisation needs.
How to Book
Cost:
| | | | |
| --- | --- | --- | --- |
| Session Length | Online Price | Face to Face Price | Participants |
| 1 hour workshop | £200.00 | £250.00 | MAX 20 |
| 75 min workshop | £285.00 | £325.00 | Up to 50 participants* |
| 90 min workshop | £285.00 | £325.00 | MAX 20 |
| | | | |
*Not applicable for all training sessions – please enquire about this option before booking
We have updated our prices for any training taking place from January 2024 onwards. We understand the challenges created by the cost of living crisis and, with this in mind, have not increased our training prices over the past two years. We have now taken the decision to revise our prices based on our own costs and needs as an organisation whilst ensuring our courses remain excellent value for money for organisations wishing to invest in mental health support.
For our 60-minute bitesize workshops, we have also made some changes to our pricing structure. This is so that our workshops can be delivered to larger groups to meet your needs.
| | | |
| --- | --- | --- |
| | Online | Face to face |
| Up to 50 participants | £225.00 | £300.00 |
| 50-100 participants | £275.00 | £350.00 |
| 100+ participants | £325.00 | £400.00 |
As a special offer, previous rates will apply for any courses booked before 31 December 2023 to take place in January, February or March 2024.
Block Booking:  Book 6 sessions and receive a 10% discount, or book 12 sessions and receive a 15% discount. Sessions can be the same sessions repeated for different groups, or different sessions.
To design your package, contact the Training Team [email protected] to arrange a call.
I have left the training session feeling positive with lots of great techniques to try!