When Aashni interviewed chart-topping singer-songwriter Anne-Marie
29/07/2020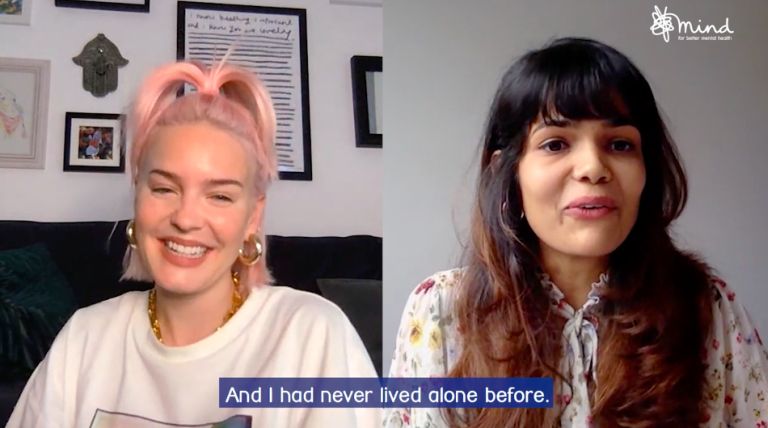 "I never thought my problems were big enough to tell"
National Mind's newest Ambassador Anne-Marie joined 22-year-old former Manchester Mind service user, now part of our Fundraising Team, Aashni, via video call to share their experiences of being diagnosed with anxiety at a young age. Anne-Marie said: "[my mental health] got so bad when I was in my late teens that I almost have memory loss from those years because my anxiety was so high. I have a whole patch of my life that I don't remember."
When asked about what first inspired her to open up about her experiences, Anne-Marie said that seeing people talking about mental health online had helped her: "That's what makes me want to keep fighting for everything online […] because I never would have actually come to grips with my mental health if it wasn't for seeing people talking about it. I try and speak about it every day, whether it's in a song or to my friend or anywhere. I try and speak about my mental health every day."
The singer also revealed: "I never thought my problems were big enough to tell […] it got to the point where I just exploded. So, that's why I think it's really hard for people to just talk."
You can see the full interview with Anne-Marie here:
In research conducted during the pandemic, Mind found that one in three adults and one in four young people did not try to access support for their mental health during lockdown because they did not think that their problem was serious enough.
In the interview, Anne-Marie encourages anyone experiencing a mental health problem to talk about it, saying she couldn't believe: "how much it helps as soon as you open your mouth".
The interview was filmed as part of Anne-Marie's ongoing work with national Mind to highlight the services the charity has been offering during the pandemic to support people experiencing mental health problems. Aashni spoke to Anne-Marie about her experience of using peer support, where people use their own experiences to help each other, having used both an in-person group, facilitated by Manchester Mind, and national Mind's online peer support network, Elefriends, during the pandemic.
Speaking about her experience of lockdown, Anne-Marie said: "It's definitely been challenging, because you are forced to be on your own. And it's something that I haven't done in so long. I've never liked being on my own. I've always loved being around people and, obviously being on tour, you are constantly around people, you're never without someone.
"So I found the lockdown really hard and, now it's starting to go back to normal, now I feel the pressure and anxiety coming in about going back to normality and actually being around people again".
Anne-Marie was announced as a national Mind Ambassador in March 2020, and discussed her feelings about the role in the film too, saying: "I feel really lucky to be an Ambassador of Mind. I have been on a massive journey with my own mental health in the past two to three years. So just to be part of something that helps other people for that is just so special to me."
Aashni shared her thoughts with us about this amazing opportunity
"Once in a lifetime an opportunity comes along which is truly life-changing, I felt this was one for me. I enjoyed the conversation so much, and I hope it encourages people to reach out and take that one step."
Well done to Aashni for taking part in this wonderful interview and helping us continue to highlight the importance of talking about mental health.