Allotment Blog: This team really are hardcore!
24/12/2021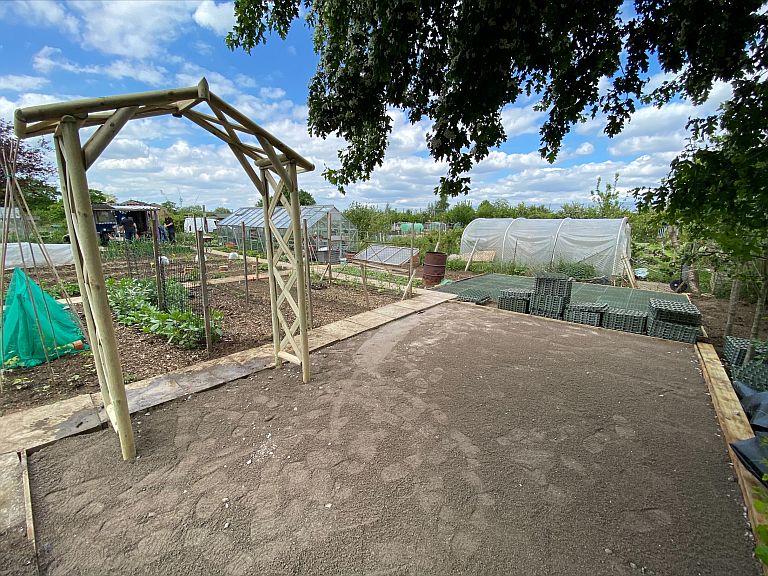 As the gravel we are using for our sensory garden is going to be used for practical purposes (path/seating/activity area) it is important to lay a base of hardcore beneath it, before laying gravel on top. This prevents the gravel from moving and sinking under various weights and with movement.
During this session, the team used a Wacker plate (also commonly referred to as a plate compactor or vibrating plate) to compact the hardcore to the ground to create a solid surface and level grade. The machine is heavy and has a vibrating metal base plate and a motor on top of it. Vibrating plate compactors are robust and heavy pieces of equipment, in order to ensure proper compaction.
Next up… work was carried out to prepare for our gravel to stop it migrating to places it is not intended for and to keep it looking great. Gravel stabilisation plates were added to support the gravel and prevent loss or breakage.
This is really good to use in areas which will receive a lot of foot traffic and we hope we will have lots of visitors! The grate is made from recycled plastic and is an environmentally friendly alternative to more common stabilisation methods such as concrete or tarmac. Ideal for an allotment. It is permeable but provides a firm base, it is a great low maintenance solution. All the panels connect easily you just snap and slot interlocking connections. Some tiles were cut to size to fit the design.
We have a well compacted base. Hard work, hardcore!