Aashni's Story: Finding a little moment of calm
27/07/2023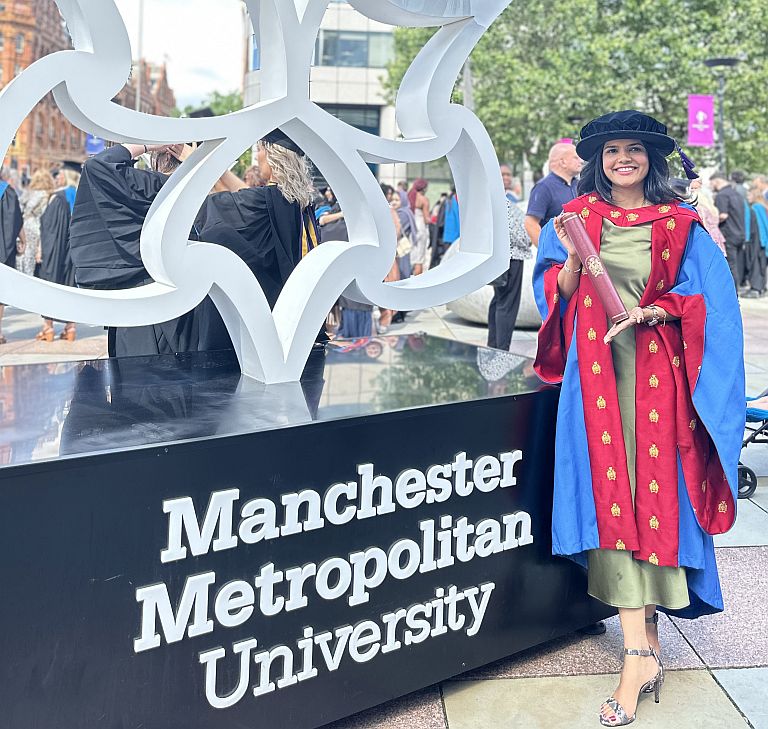 I graduated last week with a Professional Doctorate in Psychological Therapies from Manchester Metropolitan University. The past five years have not been easy. From moving to a foreign country and living away from family to coping with the stressors of higher education, it has been a rollercoaster ride.
My Doctorate journey involved theoretical units and assignments, a thesis (with three research papers), two clinical placements working as a mental health counsellor, and a part-time job (at Manchester Mind). It was intense; I had a seven-day working week. I had to multi-task my studies, work, household chores, and social life. All of this with being constantly homesick and missing the support of my family. There were times that were so challenging that I wanted to go back home. It was overwhelming having to do something constantly and always having to be somewhere.
As I reflect on it, I'm thinking, how did I get through it? What helped?
What comes to mind is the small moments of self-care that provided me with resilience and were the most helpful. It was something as simple as going for a walk, sitting in a café, calling a friend, getting something to eat or drink, doing a mindful activity, or even just taking a nap.
This is something that I have learned through my degree…when the going gets tough, find yourself a little moment of calm.
It does not have to be anything extraordinary; just something tiny can make a difference. I know it is easier said than done, and there have been times when getting myself to do even something simple has been difficult. And that's when I reached out to friends and family for support and even joined my local peer support group at Manchester Mind. I have known and realised that I am not alone; there is support out there, I just have to ask for it.
As I prepare myself for a full-time job with more responsibilities, I carry this lesson with me. I need to constantly check in with myself and my feelings, find my moments of calm, and reach out for support.