Aashni's Story: Finding a sense of belonging and helping others along the way…
03/08/2022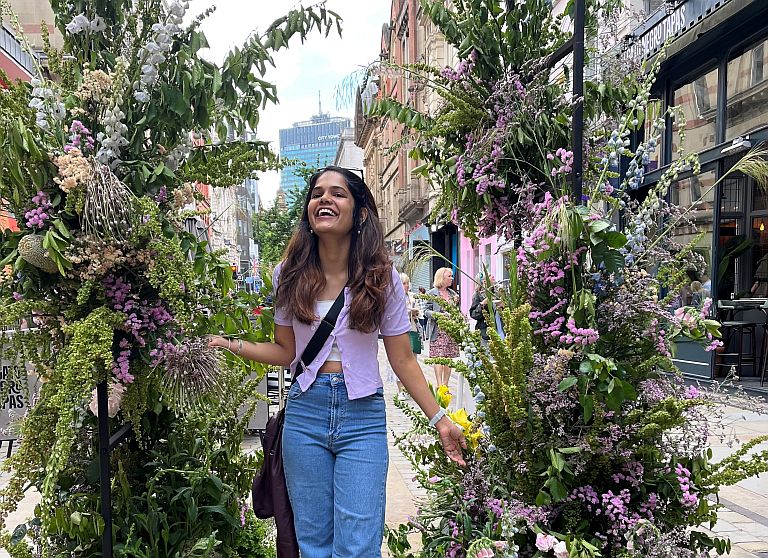 I came to the UK from India in 2018 to study my Masters in Integrative Psychotherapy. I've always had an interest in the mental health sector, and soon started looking for local volunteering opportunities to build skills and actually work alongside people. Professionally, I wanted to learn, but I also was struggling myself, so when I came across Manchester Mind's peer support group, it seemed like a good fit.
"I started attending the peer support group as a volunteer and it was life-changing. I have never experienced something so powerful."
There were no hierarchies, everyone was equal and had the chance to share. I met many interesting individuals and formed connections that were so important for me, being so away from home. As someone starting out in a new country, and in a new role, Manchester Mind were very supportive and it was a warm experience. The work I did with peer support was two-fold; I was able to facilitate help for others attending the group, but it also massively helped me.
After a few months of volunteering at Manchester Mind, my manager mentioned an opportunity with national Mind. I was keen, but daunted, as I still felt completely new, but they guided me through the process and I got the role. Mind wanted voices like mine (with lived experience and peer support skills) to help them plan and implement a national fundraising event for major donors. Later, I also volunteered with their media team to create positive news about my journey. I also gave speeches at events with an audience of highly influential and powerful people, including Paul Farmer (Mind CEO) and Stephen Fry. Though I was initially intimidated, the experience was phenomenal. It is only because of the support and encouragement from the team at Manchester Mind that I was able to achieve such things. The local peer support groups gave me a sense of connection and a reminder that I'm not alone, which gave me strength to achieve things that I could not have done before.
I now work part-time as the Fundraising Officer for Manchester Mind, whilst completing my University Professional Doctorate degree. I am the point of communication between our local charity and hundreds of fundraisers each year. I manage sponsored challenges and one-off events, building relationships with local people in the process.
"Many fundraisers have lived experience of mental health struggles and it is a privilege to hear their stories and witness their aims and motivations growing positively, step by step."
It is the feeling of gratitude I enjoy the most; it is fulfilling when our loyal community keep coming back, in small ways and bigger ways to help. They are doing so much for our mental health services by raising vital funds to keep us going, it's humbling indeed.
Fundraising income currently supports our Children and Young People services, Food for All project, Advice team and Community Wellbeing services, as well as giving us the autonomy to pilot new projects. Donations ensures that no matter what happens, our services will go on and we will continue to stand for the people of Manchester. Knowing the benefit of being involved with Manchester Mind for my own mental health, I appreciate how valuable local services are. I'm now able to play a small part to ensure help is available year after year, for many others like me. It has been great this year as opportunities open up – we've been able to attend charity events and represent Manchester Mind in person.  Instead of being limited to virtual interactions, I've meet fundraisers face to face, bringing to life their amazingly kind efforts, which gives me the motivation to continue.
So, it all started here at Manchester Mind. It's powerful to see how much a charity can contribute to your progress and allow new avenues for growth. I thought I was just joining as a volunteer, but years later my journey here still continues, feeling I truly belong and am fully accepted for myself.
Find out more about our Peer Support Groups