Our Story: Manchester Mind marks 30 years of mental health support for local people
12/09/2019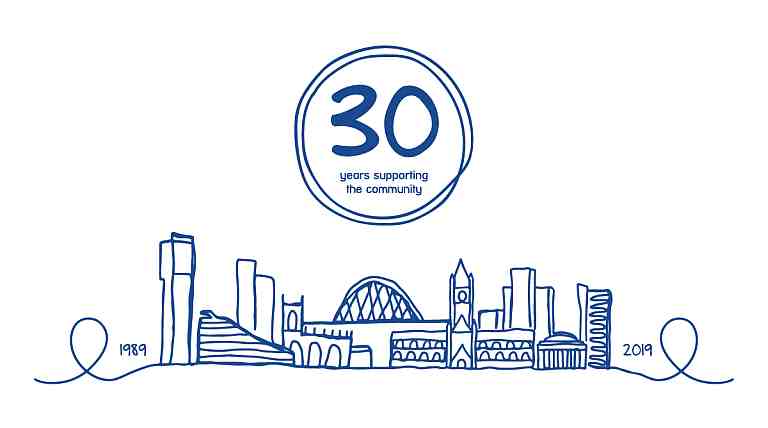 "I relied on others to contain my enthusiasm and keep it real, but we had this opportunity to create a more radical person-centred approach. It was quite edgy at times but we believed we could achieve great things and that is what we did."
John Butler, first employee of Hulme Action Research Project (HARP)
Against the backdrop of Thatcher's Britain, as the 1980s were drawing to a close and the 'Madchester' scene was taking off, in Manchester's deprived inner city area of Hulme, a group of like-minded individuals including local church clergy, elders, community workers and local activists came together. Their mission? To tackle the underlying factors that were impacting on local people's mental health.
Thirty years later the values that initiated this work, and the person-centred approach that was adopted, continue to be the driving force for a team of 60-plus staff who now operate as Manchester Mind. Still mostly based in Hulme, we are an independent charity providing mental health support for over 6500 people per year, across the whole city region.
So how did it all begin? In 1989, across the UK there was a general feeling of renewed optimism due to declining unemployment and the dawning of a new decade, but in the Crescents of Hulme, the council had stopped collecting rent for what was described as "Europe's worst housing stock". Yet the electricity remained on and Hulme had become a refuge for an increasingly vibrant community of artists, photographers, musicians, students and crusties.
Hidden amongst this community were vulnerable people who were placed in these "hard to let tenancies" with local people who had no other choice on where to live. For those with mental health needs, struggling to access suitable support, this meant a "revolving door" of hospital admission, discharge and re-admission. Hulme Action Research Project (HARP) was established to address these needs and moved into the Zion building, now Z-Arts. Referrals came in from different sources but by adopting a somewhat radical but highly effective human-centred approach, which most importantly meant listening to these individuals, it was not difficult to establish that the common factors affecting their mental health were poor accommodation, money or benefit problems, and lack of social support.
Funding was sought to employ people with expertise in these areas, whilst also ensuring that the Zion building was a friendly and welcoming space for people to drop in for help and support. Later a café was opened and HARP moved into the Zion Community Resource Centre, where many of our workers are still based and the café remains. In 2002, HARP won the tender for the Assertive Outreach Service for people with long-term psychosis and subsequently the staff team tripled in size. In the same year, HARP became Health Advocacy Resource Project with the opening of the Young Adult Services Project (YASP) in Levenshulme. Following the same approach, this included a social space with a café and advice service. In 2011, recognising a gap in national mental health charity Mind's network, HARP successfully acquired affiliation to become Manchester Mind.
We are marking our thirtieth anniversary by reflecting on our history and founding values, considering where we are now and what the next thirty years holds. One in every four of us experience a mental health problem in the UK each year [1], but not surprisingly the worries that were impacting on people's mental health 30 years ago remain the same. Worries about money, jobs and benefits are being exacerbated by an acute lack of mental health services and support, making it harder for people to cope. This is evidenced by an increase in the number of people who self-harm or have suicidal thoughts [2], meaning the need for independent organisations like Manchester Mind is greater now than ever before.
References
[1] McManus, S., Meltzer, H., Brugha, T. S., Bebbington, P. E., & Jenkins, R. (2009). Adult psychiatric morbidity in England, 2007: results of a household survey. The NHS Information Centre for health and social care.
[2] McManus S, Bebbington P, Jenkins R, Brugha T. (eds.) (2016). Mental health and wellbeing in England: Adult psychiatric morbidity survey 2014. Leeds: NHS digital.