Volunteers' Week 2022: Thank You!
25/05/2022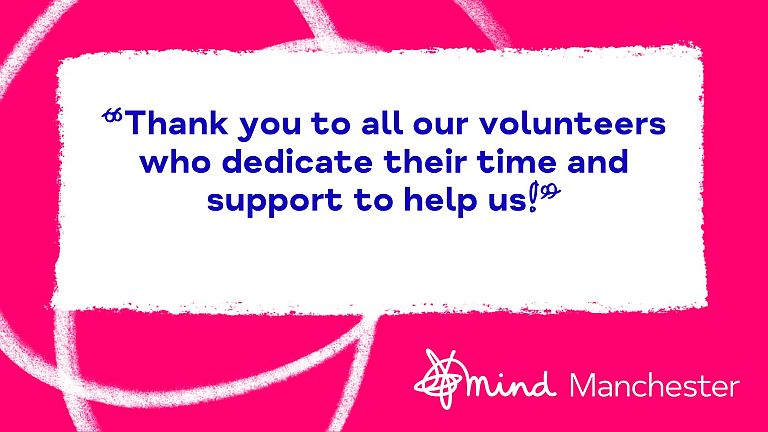 Manchester Mind is a local, independent charity. Our purpose is to support better mental health for everyone. We believe that everyone deserves to be supported in their mental health needs and that we have a part to play in that. We live by our values and care about the people we serve, including our staff, trustees and volunteers.
Our work would not be possible without the support and commitment of our staff and volunteers, who work hard to ensure our services are delivered in a way that enables people to feel heard, understood and involved. This Volunteers' Week we would like to take the chance to say a big thank you to all of our volunteers who dedicate their time and support to Manchester Mind, across all of our different services.
Our volunteers work in a wide array of roles including supporting our Food For All projects, including our allotment; hands-on roles in the delivery of advice work, as part of Manchester Volunteer Advice Partnership (MVAP); peer support volunteers and fundraising volunteers.
In 2020-21, despite the disruption caused by the pandemic, there were a staggering 2794 volunteering hours carried out. 155 people were supported by our volunteer-led Peer Support groups during this period. We also had the generous support of 387 fundraisers. 
So from everyone at Manchester Mind we would like to say big thank you for the invaluable support offered by our volunteers, who enable us to make a difference through the work we do, supporting better mental health for the people of Manchester.
Please see our News pages for stories about our volunteers. 
If you would like to find out more about our volunteer roles and how to apply please see our volunteering section here.