Volunteer shares his 'Decade of Darkness & Light' to help others
12/03/2018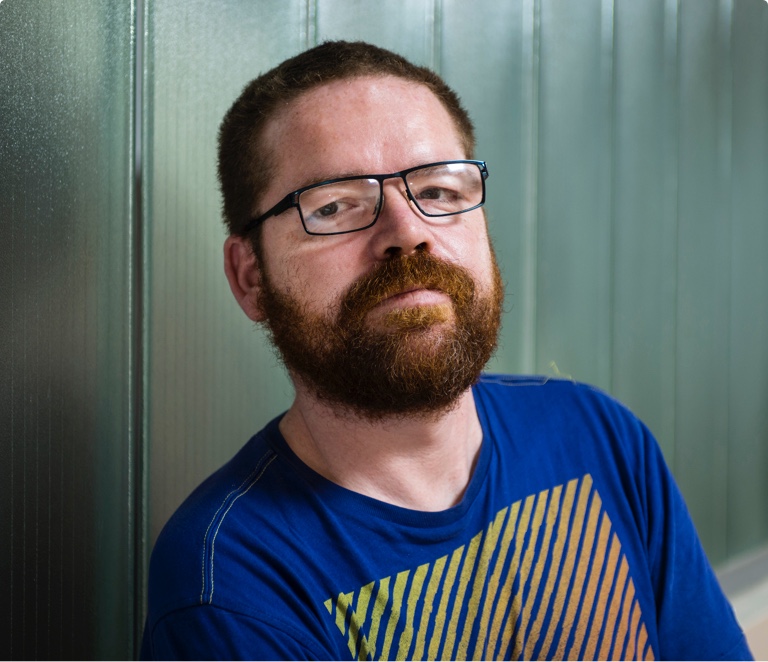 Manchester Mind volunteer, Simon Boyd, has written an e-book documenting his journey through ten years of anxiety and depression. To mark Giving Tuesday 2017, Simon is sharing his story to raise awareness of mental health and to give something back to the charity that has helped him reach where he is today.
28th November 2017 is Giving Tuesday, an international day of 'doing good stuff' for charities, following the hype of Black Friday and Cyber Monday. To mark the day Simon Boyd from Hulme, Manchester is releasing his e-book 'A Decade of Darkness and Light' to highlight mental health services such as those provided by Manchester Mind where he is a valued volunteer. He also hopes that by sharing the book, which focuses on his experiences of depression and anxiety, he will be able to help others in similar situations.
The book is about Simon's mental health, good and bad, over the last decade and the situations his found himself in because of this.
Simon has been volunteering at Manchester Mind's Zion Centre Café for two years following a turbulent ten-year period of his life brought on by the sudden death of his mum. The 41 year old, originally from Cumbria, came to the charity after initially attending a self-help group in the same building.
The former pub manager had been out of work for a number of years and desperately wanted to find some stability in his life between numerous house moves, relationship problems and periods of heavy drinking, his mental health often suffering in the process.
At the Zion Centre Simon met Sharon, manager of the café and the charity's catering company, Good Mood Food, who introduced him to the benefits of volunteering to help boost his confidence.
From working in the kitchen from just a couple of hours a week and not making eye contact or conversation with others to now volunteering most days of the week, the change has been remarkable. Previously only feeling able to wash pots Simon gradually grew to now helping to be in charge of outside catering orders. Such is his current confidence that he recently featured on Channel 4 news discussing his mental health and how this affected his employment.
One constant in Simon's life throughout the past ten years has been writing, from writing poetry when he was a child to attending a creative writing course when attending a rehabilitation centre in Ulverston. He says he wants to give a voice to the voiceless as his writing gives him the opportunity to share his experiences.
Simon says:
"With this book I wanted to give something back to Manchester Mind, they have helped me so much. I cannot stress how important awareness is, some people struggle to be open and honest but I feel lucky that I now feel able to be.
I can be open with everyone here at the charity. I've now realised that I'm not the same person from the past, and that's okay, I've been through a lot but now I'm stronger and none of this makes me a lesser person. I can enter self-destruct mood at times and be my own worst enemy but I'm learning to accept who I am and writing has been part of this process."
Joanna Huddart, Business Development Officer at Manchester Mind, adds:
"We're really proud of Simon for building the courage to share his story. Not shying away from difficult experiences makes it a powerful and emotive read. By ordering a copy of the book and making a donation to Manchester Mind you will help us help others in the city who may be struggling with their mental health.
Volunteering can bring many benefits to an individual and is known to really contribute to positive mental health. Without volunteers like Simon we wouldn't be able to do what we do so thank you."
The e-book, also containing poems written by Simon, is available by making a small donation to Manchester Mind. In the future, Simon hopes to officially publish his story as he continues his journey of being an author.
To get your copy go to https://issuu.com/manchestermindmod/docs/a_decade_of_darkness_and_light_simo
To make a donation text GTMM17 £5 to 70070