Update: Food For All Tackles Food Poverty
13/01/2021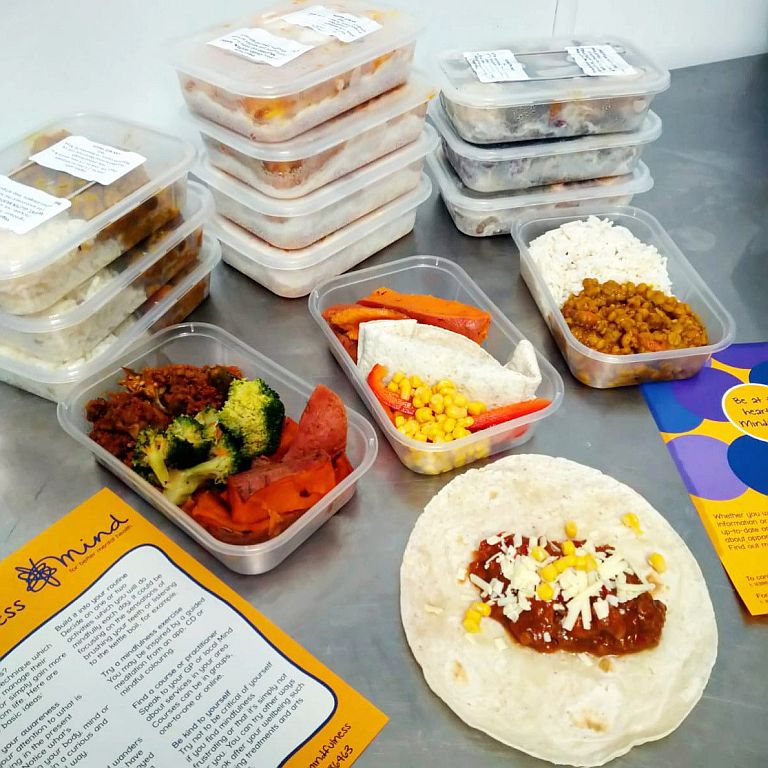 We are saddened to see that now we are back in national lockdown and children are back to homeschooling, that the free schools meal row has once again entered the headlines. When families in the UK need support the most, we are striving to do our best to continue our emergency food response. We have been working closely with our partners, including Fareshare, to provide healthy nutritious meals to local people, including many families who are experiencing food poverty and its associated mental health implications.
We estimate for £3 we could provide meals, including snacks, and accompanying mental health information for 13 children.
We wanted to take the opportunity to share an update on what we have been doing and the how we have been able to maximise our resources to keep costs as low as possible without reducing the quality of the meals provided. Our catering company staff were swiftly mobilised back in March in response to the pandemic and have been operating our emergency food response ever since. We support individuals and families in Manchester and alongside the food provided with every delivery we also carry out a wellbeing check, signposting to our services if required. This has been made possible through the use of farm excess, supermarket food waste and our own crops from our local allotment.
Emergency Food Response: Output last Quarter
7022 meals per quarter – which is 2340 per month, 585 per week, 117 meals per day
Costs of food produce (plus packaging) last quarter
£192 paid to Fareshare
£600 staple supplies
£792 packaging
Total: £1584
So, in October, November and December we created 7022 meals using 1725kg of produce at a cost of £1584
Every meal was 245g and nutritionally balanced including protein and a variety of vegetables.
Each meal cost us 22.5 pence to produce and package.
Based on this: For £3 a day, we could provide and package a filling, nutritionally balanced meal for 13 individual children (as pictured).
Examples of meals last quarter: Split pea and ham stew. Chicken curry and rice. Roasted vegetable pasta. Vegan Dahl and rice. Veggie burger, mixed beans and potatoes.
We are proud to have been able to provide this service since the first lockdown back in March 2020 and would like to extend our thanks to all the staff, volunteers, organisational partners and generous donors who have supported us.
Find out more about our emergency food response here.