Greater Manchester Peer Support Hub
07/06/2021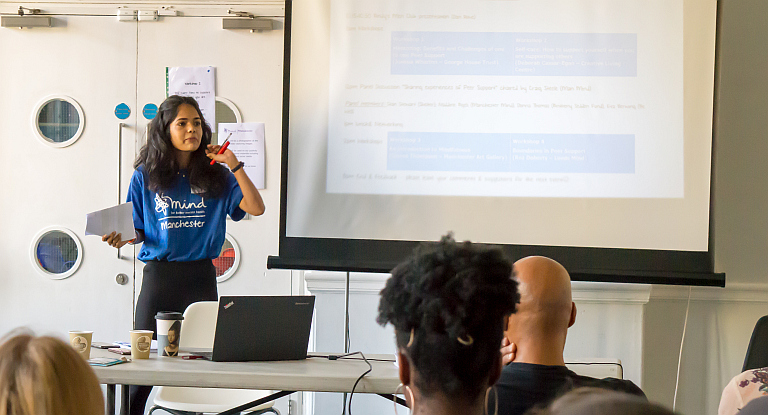 The Greater Manchester Peer Support Hub project was funded by national Mind and had the aim to create a Greater Manchester wide network of peer support providers, provide learning opportunities for peer support facilitators, support for those who would like to set up a peer support group, and to increase confidence and best practice in facilitators and wellbeing in those who are attending groups or mentoring programmes.
"It has connected me with over 70 providers of voluntary services. In a busy role it is hard to take time to network and research what is going on in the voluntary sector in your area. To be part of a hub meetings zoom / face to face, has enabled me to connect with organisations and people I couldn't have been able to do on my own.  It builds up relationships with people operating similar volunteer peer support for the same projects and shared practices." Network member
How to get involved:
The Peer Support Hub continues to meet bi-monthly and any new or existing peer support groups are welcome to join to learn, network and share experiences with speakers and discussion points from funding to boundaries.
To find out more please email [email protected] to arrange an informal chat and/or assessment.
Find out more about Manchester Mind's Peer Support Groups for people living in the City of Manchester.
Hubs Achievements to Date:
We managed to build a strong network of peer support providers from a grassroots level to service providers across Greater Manchester. From the start our aim was to create shared ownership, and so we came together in our first meeting and decided how the network meetings would run and how we can all share responsibility. We managed to involve over 100 peer leaders from project coordinators, group facilitators, mentors, and managers in a meaningful way.
From April 2019 we ran bi-monthly network meetings, with a rotating chair person who would introduce their peer support project, and then lead through the meeting where we would discuss current issues in peer support and share resources, ideas and offer support. The participation in the network meetings increased steadily from 12 people in the first meeting in 2019 to 26 people in 2021.
We ran four network event days with workshop topics that had emerged from the network meetings, we included network partners in the delivery of workshops and presentations. We also focused on networking, in order to establish stronger and more meaningful connections between peer support facilitators and providers.
We developed a two day training course on 'How to set up a peer support group in your community' that was based on the Side by Side Toolkit. The course was co-produced with two of our long standing peer support facilitators and was followed up with 1:1 support and coaching as needed to establish six new groups.
We have been able to give out 43 Seed Grants of £250 to 39 different peer support groups. With the spread of COVID-19 we offered and gave out the Seed Grant in order to help move groups online.