Meet the emergency food response team: Jules
18/06/2020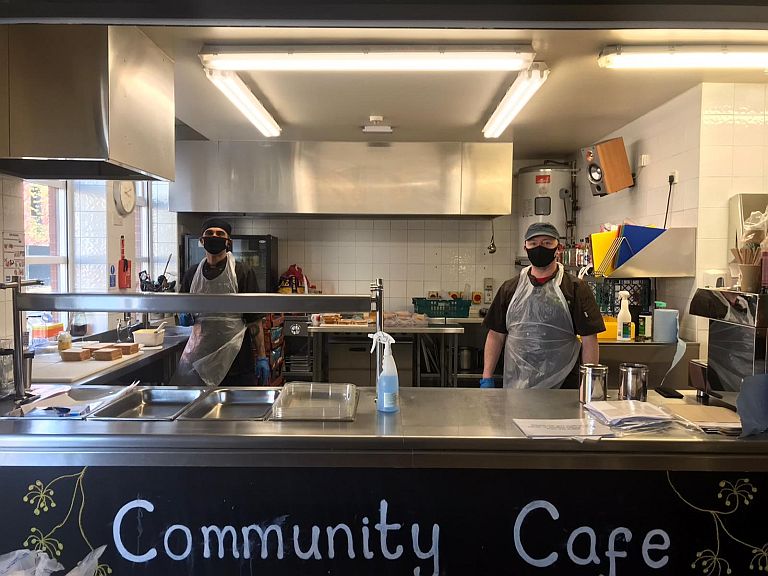 Jules is the Catering Supervisor for Good Mood Food. He has worked for Manchester Mind for 13 years. He started in the community cafe and now oversees things in our professional kitchen unit. He has watched Good Mood Food grow from strength to strength and is a valued and experienced member of our team.
Jules loves that his job allows him to use and develop his catering skills whilst also supporting people to manage their mental health through volunteering.
Jules is currently overseeing the partnership we have with Maverick Star Trust. He and his small team of staff and volunteers have worked with the trust to provide hundreds of school aged children around Manchester with packed lunches as part of the emergency food response.
Many of the children are entitled to free school meals or their parents had already paid upfront for their school dinners and were therefore struggling to be able to feed them through the day. Jules says the best thing about the work he has been doing, is knowing that children have been prevented from going hungry. Having seen his personal food bills increase by 50% during the pandemic he can empathise with the financial struggle, but can't imagine how hard it must be for families living with food poverty.
To manage his mental health and wellbeing during the crisis, Jules has rediscovered his love of cycling and has been making the most of his daily exercise. He recommends physical activity as a positive coping mechanism. He is grateful that he has been able to start work earlier in the day to enable him to be at home in the afternoon with his family – supporting them through the pandemic.
Jules would like to say a special thank you to his newly recruited volunteer Caroline, as without her, he would not be able to get the work done.
You can find out more about our emergency food response here.