LGBTQIA+ Icon
23/02/2023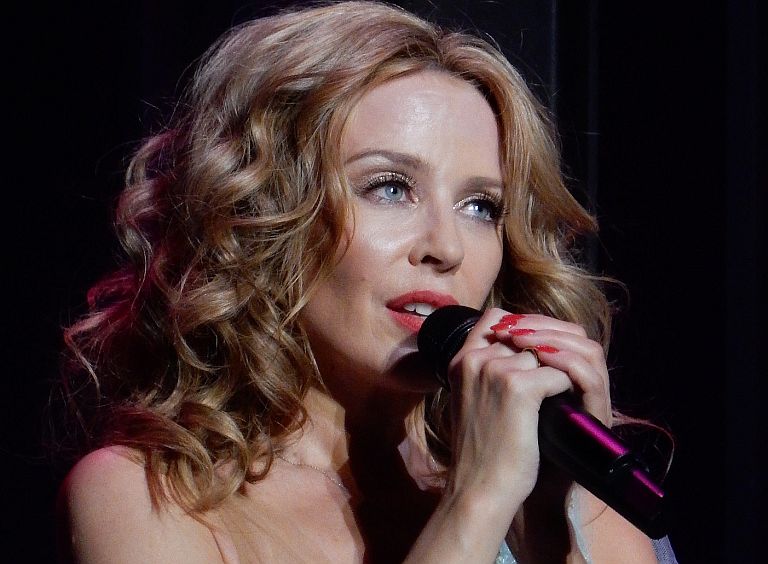 LGBT+ History Month is celebrated every February in the UK. It exists as a moment to reflect and remember the history of the people within LGBTQIA+ communities and look back at the progress made over the years. This LGBT+ History Month we invited staff to get involved and here is a story from David in our Community Engagement Team.
Kylie, it could be argued, appears to have no connection with LGBTQIA+ culture – she's now just a middle-aged straight woman who sings. However, Kylie commands a huge and loyal following of LGBTQIA+ fans, and I'm wondering – why? In this LBGT+ History Month, it's so important to celebrate and talk about the things we are passionate about and which make us feel good. So today I'm going to talk about one of my great big, proud obsessions – why I love Kylie Minogue.
The first time I was exposed to music was when I was 9 years old, and I saw 'Top of the Pops', in early 1988. I loved it but it was the song at the end of the show – for five consecutive weeks at Number One – by an artist who would go on to have a significant impact on the rest of my life – "I Should Be So Lucky."
I was transfixed by this singer, this song, and my Dad agreed to buy the record for me, providing I passed my 9 x tables. We found the 12" single in WHSmith. At home, he proceeded to play it the only way he knew how, at 33rpm – which made Kylie sound like Rick Astley! Correcting it to 45rpm, it was like six minutes of magic and a quick education for me in vinyl etiquette. During the 35 years since I have seen Kylie in more than a dozen concerts, attended three television recordings, kind of met her once and amassed a huge collection of vinyl, CDs, tapes, books, magazines and much more.
There is a long tradition of gay people – and gay men in particular – idolising female musicians from Judy Garland, Barbra Streisand, Cher and Madonna through to Lady Gaga and beyond. It feels like an inevitable generational pattern – you can usually guess some gay men's age via their chosen icon! But why? Most of these artists are not gay themselves. Some people suggest there are common characteristics of glamour, good (and bad!) hair and outfits, tragedy and often a strong element of allyship with the LGBTQIA+ community. But that doesn't explain why at age 9, I (and many of my gay peers) were all drawn inexplicably to the same artist? Kylie is not the Pied Piper.
Kylie has demonstrated her LGBTQIA+ allyship time and time again, performing at Pride events around the world, supporting causes such as the fight for equal marriage in Australia and working with trans creative artists as part of her team. She is performing at Sydney World Pride later this month. Singer Rufus Wainwright once labelled Kylie as "the gay shorthand for joy" and I can identify with that. She makes me feel good. She has had and continues to enjoy an unusually long and successful career for a pop artist, and with rumours that she will attend the King's coronation in May this year, perhaps she herself deserves to be crowned instead – the Queen of Pop!
There have been relatively few breaks in Kylie's musical output, which means her presence has been constant, and developed as her fans have developed and grown with her. As she entered her early twenties, she rejected her bubble-gum pop roots with embarrassment, and so did I as I started secondary school. I hid away all my Kylie records. There was nothing less 'cool' than to admit to being a Kylie fan.
But then in 1994 she returned with "Confide In Me", a cool, edgy contrast so great it took a little getting used to. As I went to university in 1997, Kylie moved even further away from mainstream pop with a darker sound comprising dance, trip hop, electronica and rock on her "Impossible Princess" album which was just a perfect reflection of the changes I was experiencing in my life, leaving home for the first time.
Then I went to my first gay club, and there was an incredible moment when I tentatively walked in, and heard the sound of a familiar old song pumping proudly throughout the building… They were playing old Pop Kylie. It was kind of like an unwritten welcome, an easy signal that I was among like-minded people and could relax and be myself, just when I needed it most. When I next went home to my parents' house, I found all my old Kylie records in the loft, and proudly took them back to uni with me. No more pretending!
And so, it has continued like that across fifteen studio albums, with number sixteen on the way. Her last album was, by necessity, released during the Covid-19 lockdown. For me, and many other fans, this was such a welcome distraction and huge excitement, which without doubt helped us to get through, and to manage our mental health a little easier. The song "Say Something" in particular is an uplifting track about building love and connection despite the barriers we face, and ends with the empowering words "love is love it never ends, can we all be as one again". An absolute recent favourite – go check out the Infinite Disco version with the London House Gospel Choir, it really is incredible!
Throughout life's ups and downs, there is barely a memory or time in my life which I can't track via Kylie's music. I'm not absolutely certain why gay people have been particularly drawn to her – I can only explain my journey, but I think there are relatively few artists who can actually stretch throughout their fans' entire lives and have such a positive, lasting impact as the one and only, Kylie.
Find out more about LGBTQIA+ mental health
"Kylie Minogue – Kiss Me Once Tour – Manchester – 26.09.14. – 154" by J.E.T. 603 is licensed under CC BY 2.0.