World Mental Health Day – Do One Thing
Events Date: Saturday 10 October | Location: Everywhere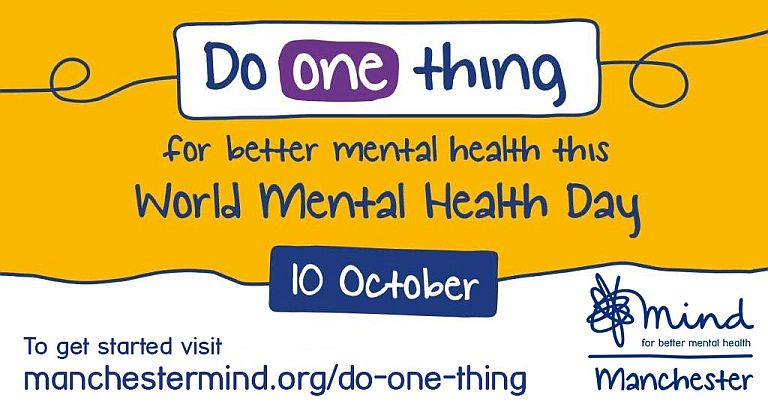 2020 will not be many people's favourite year. It has been a tough one for us all. Collectively, as a nation, our mental health has suffered. But if the months of lockdown and loss have taught us anything, it is that few of us want to go back to exactly the way things were before. We want to change the way our world works. And this World Mental Health Day is our chance to begin doing that.
In Mind's recent survey of over 16,000 people, 60% of adults and 68% of young people said their mental health got worse during lockdown. We know that many have developed new mental health problems, and for some of us, existing mental health problems became worse.
So this year, to mark World Mental Health Day on 10 October, we want to bring everyone together to "Do One Thing" for our mental health, and the mental health of those around us.
Whether you are looking to take the first steps towards getting help, find the best way to reach out to a loved one who is struggling, or raise awareness to de-stigmatise mental health issues – now is the time.
Making positive change to prioritise our mental health does not need to be complicated or time-consuming, but it can be hard to know where to start sometimes.
Here are some suggestions for you to consider:
Connect and Celebrate: Join us on the weekend of World Mental Health Day (10 and 11 October) for the Headstock Weekender. This music and wellbeing festival will be streamed over two days with live music, exclusive talks and wellbeing experiences.
Reach out to someone you are worried about –  if you are not sure how to start the conversation we have some guidance that may help.
If you live in Manchester and are struggling or feeling like you need some help please contact us on 0161 769 5732. You can find out more about our current services here.
Share your story – have you used our services, volunteered or fundraised for Manchester Mind? We would love to share your story so others can see they are not alone in their mental health challenges.
Need to talk to someone confidentially? Call national Mind on 0300 123 3393 or access other immediate help
Food and mood – nutrition really is important to your mental wellbeing so it is important to try to eat a balanced diet. You can find out more about our top nutrition tips here.
Routine – it is incredibly hard at the moment to keep to any sort of routine but it really does help improve mental wellbeing. If you are working from home you might find our tips useful.
Champion workplace wellbeing – we offer a range of courses to help you build your knowledge, confidence and awareness about mental health to support yourself and your colleagues. Find out more here.
Feeling inspired to fundraise for Manchester Mind but not sure what activity to undertake? Our Virtual Fundraising Pack is full of ideas.
Find your balance with the Five Ways to Wellbeing – Connect, Be Active, Try Something New, Give and Take Notice, having a good balance in these five areas of your life has been proven to increase people's health and happiness. Our resources for young people give a good insight into each area.
Combating loneliness – during this difficult time of social distancing it is not surprising than many of us feel lonely. We recently put together some advice for young people on how to manage feelings of loneliness that you may find useful.
If you have your own suggestions, or decide to take up one of ours, and are happy to share what you are doing please let us know via our social media channels:
You can also find out more about the World Health Organization's (WHO) campaign for World Mental Health Day here.