Emily's Story: RED January 2019:
01/10/2019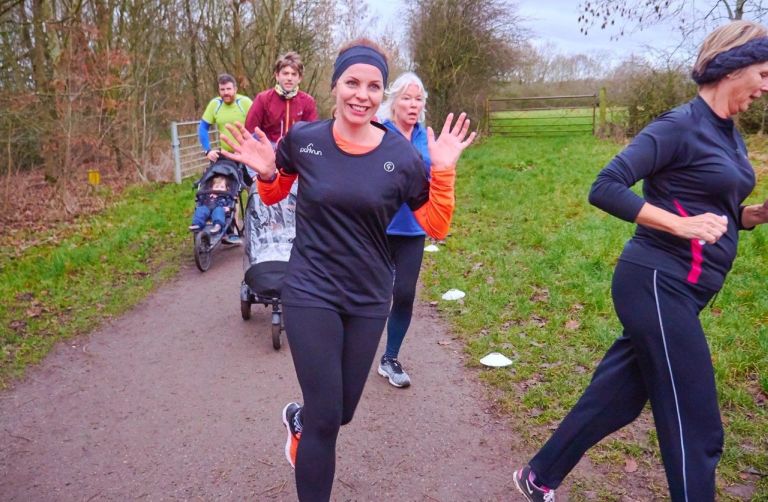 We spoke to Emily, one of our Trustees, about her 2019 RED January experience and why she chose to fundraise for Manchester Mind…
Why did you take part?
I took part in RED January 2019 mainly because I wanted to raise as much money as possible for Manchester Mind! Hearing all about the charity's work at board meetings means I know just how valuable every pound is to our service users. I also wanted to start the year in as healthy a way as possible. I knew it was going to be busy with a wedding to plan, so this would give me some much-needed headspace and build my strength, physically and mentally.
How was your experience?
At first, it was a bit daunting! However, I quickly realised that the key to fitting runs in was being organised. Recruiting friends and family helped me keep going! Friends joined me at parkrun and soggy lunchtime runs, my now husband supervised pitch black runs around our village after work and even my 'non-running' mother-in-law joined me for a jog.
The halfway mark was a real milestone as I realised I was actually able to finish the challenge! I was getting fitter and stronger from all the miles. Ticking each day off the chart and t-shirt was genuinely a highlight. My mental health benefitted from the pride I felt in doing the challenge, fundraising and managing to get some fresh (albeit cold) air during a very dreary January.
Why did you support Manchester Mind?
Supporting Manchester Mind helps people across the city by providing such a great service to those in need. They also deliver workplace training on mental health and run an external catering social business. Mental health's profile has raised so much over the last few years, but with the gaps in health and social care remaining, there's so much to do unfortunately. Most people think the local branches are directly funded by national Mind but they're not, they're completely separate charities.
What would you say to those considering take part?
Be kind to yourself! This is a challenge for a mental health charity, after all. So, don't beat yourself up if you can't run every day. My knees were really unhappy by week 3 so I had to take a day off. I was gutted but you have to listen to your body or risk getting injured.
Move out of your comfort zone – facing my treadmill fear on the rainiest of days meant at least being warm and dry!
Don't think you can't take part if you don't run, any form of exercise is good including yoga and walking, if you'd prefer.
Get organised! Plan your runs, who you're going with and what kit you'll need (hi-vis and lights for dark nights). Try out new routes to keep things fresh.
Remember to enjoy it, it's totally worth it!