Children and Young People's Services Update
17/04/2020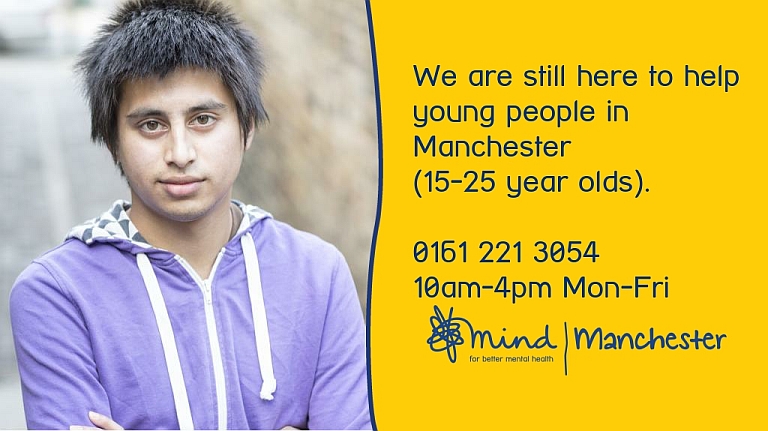 We are still here to help during this difficult time.
We offer a range of services for young people, including counselling and advice, all of which we have adapted to ensure we can continue to offer this vital support.
We are also pleased to launch a telephone listening service to help young people in Manchester who are struggling.
Counselling
Our Counselling service is now open for new referrals. To access Counselling please ring 0161 221 3054 and press option 2, or complete our online referral form, alternatively you can email cyp@manchestermind.org
CYP Advice Service 
Our Advice service is taking new referrals. It is for those who are having difficulty with benefits, debts and housing issues. To make an appointment with one of our advice workers please ring 0161 221 3054 and press option 3 or email cypadvice@manchestermind.org 
Find out more about our young people's advice service here
Our phone and email service offers young people a listening ear and support to help manage difficult feelings during this time of physical distancing. Please call  0161 221 3054  and select option 1 or email us at listenerscyp@manchestermind.org
This phone line and email service is open Monday to Friday 12pm – 4pm. If you are low on credit you can request a call-back by emailing listenerscyp@manchestermind.org
More information about our Listening Ear Service is available here
Virtual Wellbeing Cafe
Our young people's Wellbeing Cafe is now open for virtual visits. Taking place every Wednesday at 11am this is open to anyone aged 15-25, who wants to find out more about our services, take part in wellbeing activities and make new friends. Find out more here.